July 1, 2017
/
/
Comments Off

on Summer reading for teens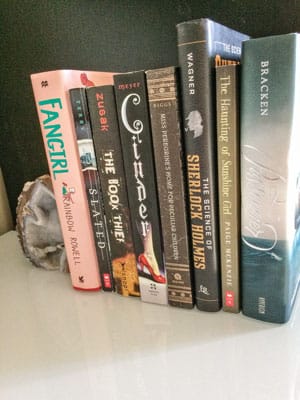 Have you read a good book this summer? Share it with us at editor@castlepinesconnection.com. Pictured are some of the books from the suggested summer reading list. Be sure to check them out!
Article and photo by Sarah Bermingham, RCHS intern writer Teens love the free time they get over the summer, so here is a great list of reading suggestions for that downtime:
For middle school-aged readers:
"Cinder: The Lunar Chronicles" by Marissa Meyer. This book is a science fiction spin on the classic fairytale, "Cinderella." Earth has a complicated relationship with Luna, a city on the moon, home to people with mind controlling capabilities. Cinder is a cyborg mechanic living in Beijing who gets caught up in the conflict. The whole series is filled with adventure and plot twists.
"Slated" by Teri Terry. Kyla is given a clean slate by the government after claiming she was a terrorist. Her memory is completely wiped, and her feelings are monitored at all times. She is told this is her last chance to turn her life around but things are not as they seem, and she tries to escape the government's control.
"Racing in the Rain: My Life as a Dog" by Garth Stein. If you love dog books, this one is for you. Enzo finds a home with Denny, his best friend who hopes to become a famous race car driver. Funny, lovable Enzo narrates this story and he longs to race cars with his friend. Even though life does not go the way they hoped, these best friends always stick together.
"The Haunting of Sunshine Girl" by Paige McKenzie. When 16-year-old Sunshine Griffith and her loving adopted mother move to Austin, Texas, Sunshine has trouble adjusting to her creepy new home. She hears strange footsteps and child laughter, but her mom can't hear a thing. Sunshine and her new friend, Nolan Foster, try to prove to her mom that their house is haunted. In the process, they dig up a very ugly history that is much bigger and deadlier than they originally thought.
"The Girl From Everywhere" by Heidi Heilig. Nixie grew up time traveling with her father and a band of pirates. She does not remember her mother, but her father is determined to find her, even if it means losing his only daughter. Nixie wants nothing more than to travel the world, but she can't until she escapes her controlling father.

For high school-aged readers:
"The Book Thief" by Marcus Zusak. This book is really sad, but it is still one of my absolute favorites. Though I originally read it for a school project, I would recommend it to read outside of school, too. Liesel Meminger lives in 1939, Nazi Germany with her foster parents. After losing her family, she meets new friends and develops a love of books, which she often steals. Her foster family decides to help a Jewish man escape the government by hiding him in their basement.
"Asylum" by Madeleine Roux. When Dan Crawford joins the New Hampshire College Prep program, he ends up in the middle of some dark family history. While enjoying summer school, he and his friends Abby and Jordan try to uncover the former asylum's horrific past. The rest of the series is really good too; once I read the first one I had to read the rest.
"Fangirl" by Rainbow Rowell. Cath is obsessed with the Simon Snow book series and has been for most of her life. Her love of these books helped her pull through tough times and enjoy fun book events even more, but now that Cath is going to college and her twin sister Wren is pushing away from her, Cath might have to leave behind her childhood to grow up. I laughed throughout the whole book.
"The Science of Sherlock Holmes" by E.J. Wagner. I found this book fascinating, even though it could be a little graphic at points. This nonfiction story about the real forensic science of the Victorian era is great for those who love the Sherlock Holmes books, but is also an interesting read for those who love mysteries and science.
"The Devil in the White City: Murder, Magic, and Madness at the Fair That Changed America" by Eric Larson. This nonfiction book is also a little graphic, but it is equally interesting. Half the story tells about the impossible challenge of building and organizing the first World's Fair in Chicago; the other half tells about the twisted life of America's first serial killer, H.H. Holmes.
"Passenger" by Alexandra Bracken. Talented violinist Etta Spencer's life is turned around one terrible night when she ends up miles from home in a time far away from the one she grew up in. Nicholas Carter ran away from servitude by living a life at sea. Nicholas and Etta work together to find an object to keep Nicholas away from the family he left, but it may keep Etta from ever going home.