Talented performers took the stage at the BRE Variety Show
April 1, 2014
/
/
Comments Off

on Talented performers took the stage at the BRE Variety Show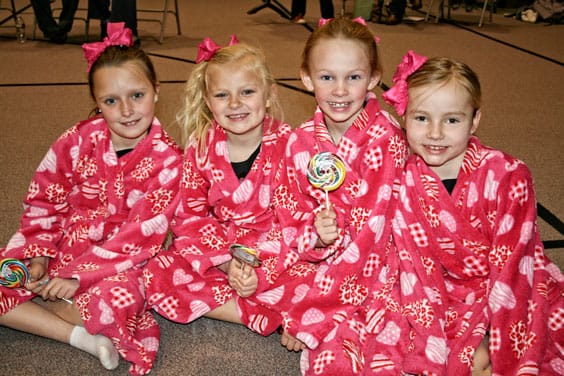 With matching robes and lollipops as sweet as their smiles, the Splish
Splash girls get ready to dance at the Buffalo Ridge Elementary
School Variety Show. (Photo by Elean Gersack).
By Hanna R., BRE Ridgeline Staff Reporter
On Thursday, February 27, the Buffalo Ridge Elementary School's (BRE) 2014 Variety Show took place in the morning and then again that evening. More than 30 brave student acts took the stage and performed in front of other students, teachers and parents. The acts included beautiful singing, graceful dancing, jumpy tumbling, tricky magic shows, a bouncing basketball routine, a talented rapper, and many more.
BRE teachers started the show with a hilarious pillow case dance routine and had the kids laughing out loud. But that was only the very beginning! "Do what you love, so that everyone can see it," said Chloe, a fifth grader in the variety show who loved how many kids cheered for her and liked her act. Chloe had never been in the talent show before and decided to sing her favorite song, "Team."
Two other great acts were "First Grade Magic" and "Cirque Du Soleil." A group of four talented first graders put together a show that the school will never forget. They made water disappear, a dog come out of a hat, and they even performed a mind-reading trick with cards and an audience member. The "Cirque Du Soleil" girls and boys presented a variety of energetic actions like hula hooping, juggling, jump roping, dancing, and tumbling. In total there were 80 kids who took part in the fun.
Another big part of the variety show was Dream Team, the student organization that put together the show. "It takes everyone to put on the show; you can't just sit back," said Jameson, a fifth grader on Dream Team. The show used to be called the talent show. Mrs. Pinke, one of the Dream Team teacher sponsors said that she decided to call it the variety show this year because it would give more opportunities for kids to be a part of the show and it gives more options for creativity.
As a performer in one of the acts in the show, I know that it was a little scary being up there. Everyone who participated was very talented and definitely very courageous. So a big round of applause goes out to all of the performers who tried their best in the show. It was amazing!