Talented Tweens: Spotlight: Jaylyn and Jolene Luber – Twirling their way to the top
October 1, 2018
/
/
Comments Off

on Talented Tweens: Spotlight: Jaylyn and Jolene Luber – Twirling their way to the top


Jaylyn (left) and Jolene (right) performing together in their team routine during national competition.

By Elise Brassell; photos courtesy of Gina Luber
In these days of gamified everything, it's refreshing to hear about kids having fun and working hard away from screens and electronics. Jaylyn Luber (9) and Jolene Luber (6) of Castle Pines do just that; they spend hours each week practicing and perfecting baton twirling routines, and their performances are so good, they've earned multiple awards at the national competition level.
Baton twirling first became popular in the 1930s when majorettes began to lead marching bands in parades by twirling shiny metal batons. The role grew in popularity through the 1960s and today baton twirling is making a comeback as a competitive sport at local, state and national levels. Universities across the U.S. are even adding baton twirlers and twirling scholarships to their sports programs.
These days, baton twirling is more than just glitter and sparkles. "The girls combine gymnastics and dance with fine motor skills, dexterity and hand-eye coordination," stated Gina Luber, mother to both girls.
The Luber sisters began twirling at age five, perhaps inspired by their grandmother Lela Prati Selby, a champion baton twirler from El Paso, Texas who has performed at Mile High Stadium for the Denver Broncos.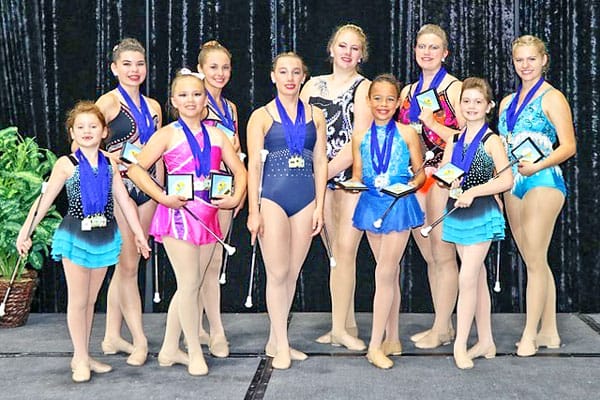 Baton twirling is making a comeback and two talented Castle Pines young ladies are giving it a whirl.
Jaylyn and Jolene have continued their grandmother's winning tradition. During the U.S. National Baton Twirling Championships held in Jacksonville, Florida this summer, Jaylyn took home first place honors in her marching event. She won third place for her solo baton routine and when the sisters teamed up for a pairs competition, they placed third in the nation. Jolene won awards in all of her individual events, including second place in her solo one-baton routine.
According to the girls, they love how unique their sport is and love performing, as well as the friendships they've made. The girls began practice for their next season this September and are looking forward to twirling in the Louisville Parade of Lights this December.