Teen Court provides alternative to the juvenile justice system
June 1, 2013
/
/
Comments Off

on Teen Court provides alternative to the juvenile justice system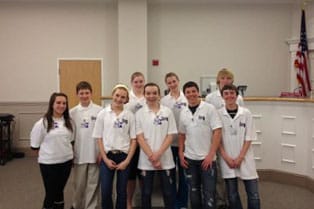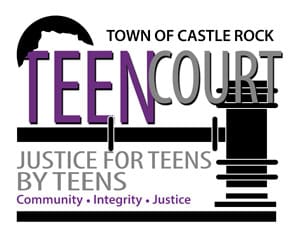 A handful of the 45 Teen Court volunteers.
By Lynne Marsala Basche; photo courtesy of the Castle Rock Teen Court
Since 2007, thanks to the dedication of local law enforcement, judges, attorneys, parents, educators, community leaders and volunteers, the Castle Rock Teen Court program offered 330 teens another option through the justice system. With only one paid staff member, the Teen Court program relies heavily on volunteers to make it a success.
With the goal of early intervention and prevention, Teen Court is a voluntary, community-based program that offers teens between the ages of 11 and 18 (if the offense was committed prior to turning 18) an alternative to the juvenile justice system. To qualify, teen offenders must be referred or offered the option through municipal court, as well as be first-time, non-violent offenders with misdemeanor charges.
Trained teen volunteers assume the traditional roles in a court case or are part of a teen panel and impose a customized sentence, which could include classes, community service, letters of apology, essays or random drug testing. (Adults act as judges in a trial case.)
Teen volunteers must be between the ages of 12 and 18, and high school community service hours can be earned. Adults and practicing attorneys are also encouraged to volunteer at Teen Court. All volunteers must make a time commitment of at least 25 hours per year, complete and submit a volunteer application online at www.crgov.com, attend a court session as part of the application review process, participate in an orientation, undergo 16 hours of legal training, and agree to sign an oath of confidentiality.
In 2012, the Castle Rock Teen Court program saw 67 cases and had a 91 percent success rate. Being a part of the restorative justice process and seeing an offender take responsibility for his/her actions is incredibly rewarding.
For more information about the Castle Rock Teen Court, visit www.crgov.com/teencourt.