Planes, Trains and Automobiles
November 1, 2020
/
/
Comments Off

on Planes, Trains and Automobiles
Thanksgiving lessons
By Steve Whitlock; courtesy photo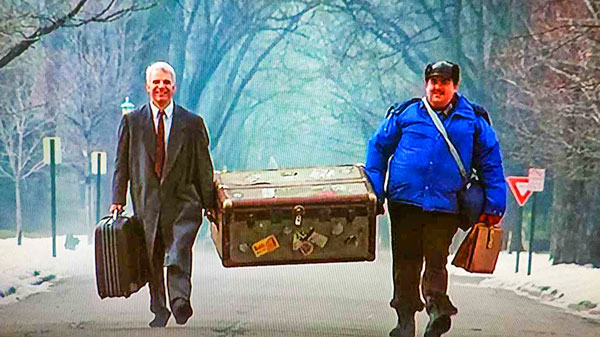 If you've seen the 1987 film Planes, Trains and Automobiles, it likely increased your awareness and appreciation for the acting abilities of Steve Martin and John Candy. Their duo forms arguably one of the best comedy teams in modern film. Of course, it's the writer, John Hughes, who allows these stars to shine. Steve Martin plays Neal Paige, an uptight advertising executive trying to get home to Chicago for Thanksgiving. When his flight is rerouted to Wichita, he unenthusiastically joins a quirky yet lovable salesman played by John Candy, Del Griffith. Together, they make their way on a cross-country journey that includes various modes of transportation, all beset by misfortune.
In the course of the duo's journey home for Thanksgiving, viewers experience a building tension. With each setback, Paige becomes more frustrated, and somehow, through the magic of the storyline, Griffith becomes more endearing. We discover Griffith's dimwitted decisions are born out of an honest desire to be helpful and contribute to their goal of getting home. Yet he fails, over and over again.
We discover that Griffith is married to a woman named Marie. We get to listen in on a phone call between them as they plan Thanksgiving, "Oh, gee, Marie, you're a stitch. No, Mom's doing the turkey. Yeah, Dad wants ambrosia, so I guess we'll get those miniature marshmallows." It's as though we've heard that conversation before – it's relatable.
Later, after one of Griffith's momentous blunders, he begins an imaginary conversation with his wife. "Well, Marie, once again, my dear, you were as right as rain. I am, without a doubt, the biggest pain in the butt that ever came down the pike." It's a statement that tells of their relationship, including previous events and disagreements. Yet, it is a glimpse into the very nature of marriage.
Then, toward the end of the movie, on his last train ride home, Paige recalls a haunting statement that Griffith made earlier, "I haven't been home in years." That motivates Paige to go back to find Griffith sitting on a bench, alone. Paige asks, "What are you doing here? You said you were going home. What are you doing here?" Griffith reluctantly answers, "I, uh… I don't have a home. Marie's been dead for eight years."
Paige invites Griffith to his home for Thanksgiving. As soon as Griffith sees Paige's warmly lit house he declares, "You're one lucky guy." That one invitation reclaims a lost Thanksgiving for Griffith.
How about you? Is there someone you've already been thinking about this Thanksgiving who maybe doesn't have family nearby? Perhaps now is the time to create your own new Thanksgiving tradition and invite them over. Who knows, it may become the adventure of your lifetime…