The Bibliophile's Corner: Images of America: Douglas County By Susan Helton
October 1, 2019
/
/
Comments Off

on The Bibliophile's Corner: Images of America: Douglas County By Susan Helton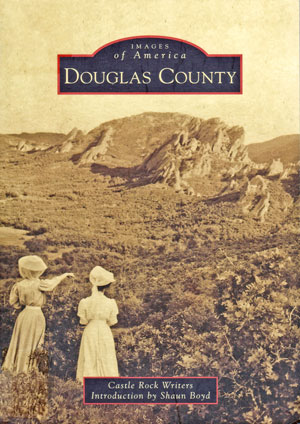 By Susan Helton

Connection writer Susan Helton is an avid reader, once reading 64 books during the summer – just because. This month, she shares a local history book.
Images of America: Douglas County by the Castle Rock Writers is an appealing compilation of historical photos and stories about life and people in Douglas County from roughly the mid-1800s well into the 1900s. Most of the photos are 100 or more years old, but a few photos show still-existing historical buildings as they looked recently. To compile the stories, the writers interviewed the descendants of pioneer families and gathered personal photographs, along with information from diaries and letters.
The book is primarily a photographic history, with accompanying descriptions that explain and expand upon the images. Each chapter focuses on a specific part of the county, with interesting vignettes of the people who lived there. From Daniels Park to Franktown to Greenland and more, the tales tell of railroads and ranches, wild saloons, cowboys, rangers and even a gangster. Other tales tell of orchards and businesses, mining, one-room schoolhouses, and getaway outings for the elite of society.
A few of the photos and tales particularly caught my attention. The photo of the Parker ranch hand with four horses made me laugh; the man's name is unknown, but the horses' names are known and listed: Jim, Diamond, Lady and Shorty. Two of my favorite anecdotes tell of two unique cowboys: one cowboy who sang while out riding his horse, which led to the name for the area, Happy Canyon; and a different cowboy, one in the Parker area, who liked to recite poetry while he milked the cows. I liked reading about the origins for place-names in Douglas County and the changes that many went through before settling into their current versions.
I enjoyed the book, but found it challenging to get a good sense of the overall story of the area with the way the photos and accompanying stories jumped around from the 1800s to the 1900s and back again. I also often wished for more in-depth information; the book definitely left me eager to know more. While not a comprehensive history, this book makes for a lovely introduction and starting point for an exploration of the history of Douglas County.
Want to share a great book you have read?
Please email shelton@castlepinesconnection.com.