The Bibliophiliac's Corner: "Among the Lesser Gods"
May 1, 2018
/
/
Comments Off

on The Bibliophiliac's Corner: "Among the Lesser Gods"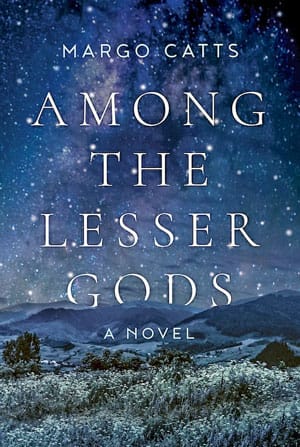 By Amanda Merriman

Connection writer Amanda Merriman admits she is hopelessly addicted to books. It has been this way nearly all her life. Every month she shares what she has been reading with the hope that others will share in the obsession too.
This month's selection comes recommended by Connection reader Judy Stirling. "Among the Lesser Gods" is Margo Catts' first novel. Catts is a previous resident of Highlands Ranch, and her mother used to be a neighbor of Stirling's. Stirling found this book to be an enjoyable read and certainly did not lead me wrong with her recommendation.
Set in the 1970s, Among the Lesser Gods introduces readers to Elena Alvarez, a recent college graduate trying to escape from a series of bad decisions leaving her with little hope for a happy future. Meanwhile, Elena's grandmother Tuah convinces her to leave Los Angeles and come to Leadville, Colorado to spend the summer helping a widower with his children.
Wanting to escape her situation, Elena begins her trek. We learn that in Elena's childhood she accidentally started a wildfire, which resulted in the death of a mother and her children. She grapples with this tragedy, and as an adult continues to struggle. A potential unwanted pregnancy adds to her distress.
Elena arrives in Leadville about as metaphorically lost as a person could be. Leadville, and the lonely nearby ghost town that Tuah has a cabin in, could not be more different than LA. Adrift, Elena retreats within herself and is standoffish and rude with the people in town.
As Elena's story unfolds, another storyline develops regarding Tuah's long-lost daughter. This plot adds even more depth to the characters. Catts does a fantastic job with the background as well. Leadville and the nearby ghost town come to life as readers learn about the people living there.
Above all, "Among the Lesser Gods" is a wonderfully written debut novel that explores self-forgiveness. At the same time, it examines the relationship between all the blessings and challenges we experience in life. This book reminds us to get outside of our own heads and embrace life. I also enjoyed thinking about different ways lives connect as I read this book. The sense of this tight-knit community was a huge draw as well. I found myself wanting to know even more about the town's inhabitants.
Catts is working on a new book, and I look forward to reading that once it comes out.
Fellow bibliophiles and book club members, feel free to join in the dialogue. Blog your thoughts and feedback at www.castlepinesconnection.com and enter the keyword "bibliophiliac" in the search bar. Have you read a great book recently? Email your find to me at amerriman@castlepinesconnection.com.