The boys are back in town at Rock Canyon High School
November 1, 2013
/
/
Comments Off

on The boys are back in town at Rock Canyon High School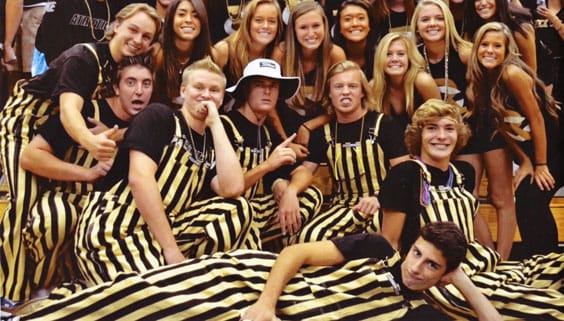 Rock Canyon High School's Golden Boys enjoy getting the crowd of cheering Jag fans excited for the game. Pictured in the front in overalls from left to right are Evan Hunchar, Andrew Nicklanovich, Bryce Stutler, Matt Vernon, Chris Schneider, Eli Hersh, and Kyle Love. Not pictured is Max Pederson.
By Amy Shanahan; photo courtesy of the RCHS Yearbook
Thanks to some enterprising and enthusiastic senior boys at Rock Canyon High School (RCHS), the Golden Boys are back cheering on the Jags and pumping up the crowd at school events and games. The idea of the Golden Boys was started several years ago, as a group of senior boys who dressed in outlandish outfits and worked alongside the cheer team and pom squad to get the crowd excited. The group died out, but has been resurrected this year all due to some crazy black and gold overalls.
Seniors Andrew Nicklanovich and Bryce Stutler were in Nebraska on college visits and noticed a group of college men wearing red and white striped overalls. The inspiration for bringing back the Golden Boys took hold. The two looked online and found the same overalls in the RCHS colors of black and gold and decided they were the perfect outfit to match the crazy antics of the Golden Boys. Nicklanovich and Stutler recruited a group of their friends and kicked off a new twist on an old tradition.
The eight Golden Boys are now seen at football games, pep rallies and other school events. "At the games, we lead the crowd in cheers and get them fired up beforehand and at big moments. We perform cheers with the cheer team and stunts with them," explained Nicklanovich. "The crowd has never really had direction in cheers and chants, but now they do. They wait for us to lead them in our famous 'I believe' chant and love when we perform. It keeps the games interesting and fun."
Football season is winding down, but the Golden Boys will continue to make appearances at RCHS basketball games, pep rallies and other school events. The Golden Boys hope to support every athletic event and look forward to the tradition continuing with incoming seniors. Stutler enjoys seeing the reaction of the crowd and feels that it brings a lot more excitement to the game, regardless if the team is winning or losing. "My favorite part about doing this is being able to interact with the student body as a whole and bring us all together to help cheer on the Jags!"