The focus was all about sustainability
March 1, 2016
/
/
Comments Off

on The focus was all about sustainability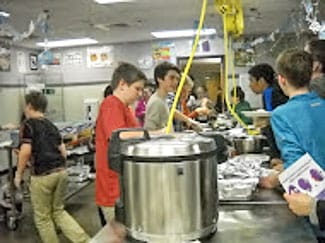 By RHMS eighth grade students Taylor Muckel and Riley Masten; photo courtesy of Heather Haney
When was the last time you stopped and thought about the amount of waste you produce? Or, when you leave the house, do you make sure to turn all the lights off? Sustainability is an issue that many people have come to know about, but have never thought of a significant reason to fix. On January 29, Rocky Heights Middle School (RHMS) held a Sustainability Night to bring awareness to these issues. The event consisted of projects by students in Douglas County, dinner, and a movie.
The student projects were about how we can be more sustainable, and what we can do to help the community. For example, we can use reusable water bottles or compost our food instead of throwing it out.
The event also had food donated from Thai Basil and Einstein Brothers Bagels that was sustainable, meaning that the grocery store or restaurant may have said it went bad, but it was still edible.
After the presentations and the meal, the movie "Just Eat It" was shown. This movie is about a couple who were sick and tired of having to eat everything by a certain date, and if it wasn't eaten, it was thrown out. They created a challenge where they would only eat food that was past its due date or close to its due date. In doing this, they weren't wasting as much food as they would if they just threw it out once it was expired.
Castle Pines Village resident and RHMS student Owen Villas learned much from the event. "I think it was a good opportunity for parents and regular adults to see what is going on in the environment."

RHMS eighth grade science teacher Heather Haney was very involved with the event. "I think I liked the fact that people their age took an interest in a topic like sustainability and got to share their knowledge with the community," Haney said.
In order to make the Sustainability Night possible, there were some great sponsors who contributed. They are City Square, We Don't Waste, Food Service Warehouse, the Sertoma Organization, Global Travel Alliance, and Just Eat It. Global Travel Alliance pledged $1,000 if 100 tickets were sold; luckily, RHMS sold 102! Overall, the Sustainability Night was a success.