The mystery of the CPN master
August 1, 2010
/
/
Comments Off

on The mystery of the CPN master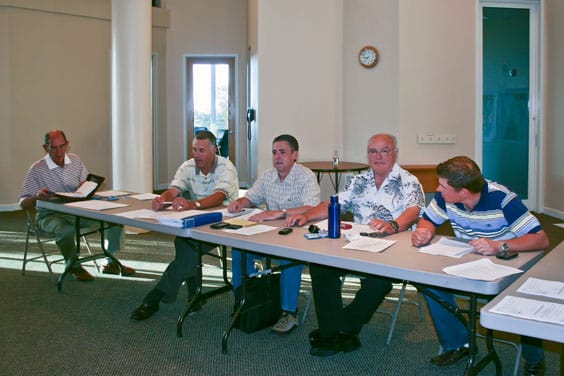 CPN's Master Association Board Directors (left to right): Larry Cook, Jim Steavpack, Steve Labossiere, Jack Zelkin; and Forest Park Delegate, Keith Dodd.

Article and photo by Kathy Dunker
Discussions have taken place recently in Castle Pines North (CPN) regarding the responsibilities and the relevance of the Castle Pines North Association (Master Associaion). Under the direction of Board President Steve Labossiere, this subject was addressed at the meeting on July 15 at the CPN Community Center.
After discussion with attorneys about the possible dissolution of the Master Association, it was discovered that disbanding is a very expensive process. The requirements would include extensive legal documents along with a popular vote with a price tag somewhere in the vicinity of $100,000.
The least expensive option was to stick with the status quo and maintain the Master Association as is. For every $100 per year paid in dues, $70 goes to the Parks Authority and $30 goes to the Master Association. Long-time resident Cheryl Dade reminded the board that Centennial is now trying to form a Master Association. "It's much harder to form one than to break one down," she said.
The Master Association is currently setting goals and core values that will guide them in such a way as to, "make us more productive and provide more services to the homeowners", said Board Director Jack Zelkin. The new role of the Master Association is to serve as a liaison between the homeowners and the city. With the upcoming expansion of the city boundaries to include the Canyons development east of I-25, this will become increasingly important. The Master Association will represent the home-owners to the west of I-25 only.
Historically, the Master Association has contributed to social events in the community such as carriage rides and most recently helped sponsor the community Independence Day celebration at Coyote Ridge Park.
The board is now seeking ways to encourage more attendance at monthly meetings so it can gather additional input from CPN homeowners, including the delegates and HOA presidents. Stay tuned for a possible upcoming pizza party meeting to help encourage additional attendance. Currently, the board is in the process of an HOA tour, where board members attend the HOA meetings. There are currently 28 HOA's in CPN and so far 7 HOA's have received one of these visits.
As Board President Steve Labossiere states, "We can't be advocates without input."