September 1, 2020
/
/
Comments Off

on The power of an e-bike
Article and photos by Lynn Zahorik
On most any day, you can spy Dave Richardson zipping down the streets of Castle Pines on his electric bike (e-bike). In fact, he might just be passing you by as you sit in traffic. Dave and his wife, Carolyn, are two of the many people who are enjoying the e-bike explosion. They have had their IZIP e-bikes for three years and relish their time on two wheels.
E-bikes are a great form of transportation and recreation. They provide all the advantages of a regular bike: exercise, free parking, zero emissions and freedom from gridlock. All this, while eliminating one of the bicycles more serious drawbacks – a lack of power. Imagine pedaling up a hill as easy as you would while riding downhill; that's what the e-bike experience is all about. Utilizing pedal-assist technology, the e-bike motor kicks in as you pedal to allow you to go faster. Unlike a scooter or a motor bike, the electrical assistance is smooth and quiet.
With the desire to be near their ever-growing family of five children and 10 grandchildren, Dave and Carolyn moved to Colorado from their long-time home of Hawaii a few years ago. Wanting to experience everything outdoors, they discovered bicycling as a great way to embrace their new chapter. Dave strongly encourages others to try a motorized bike.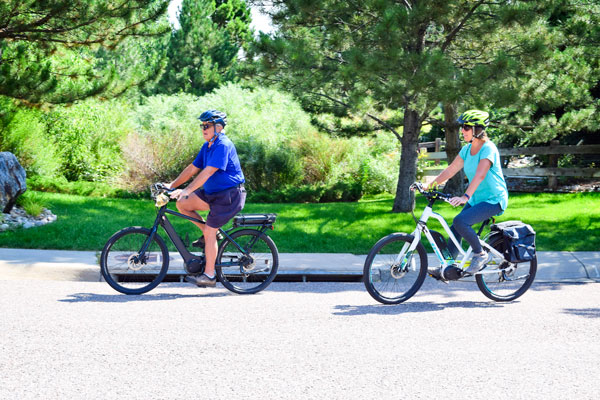 "We have found that e-bikes make getting out as you get older an enjoyable exercise experience," said Dave. He routinely rides 20 to 30 miles a day throughout the Castle Pines area. Dave said he likes to challenge himself, and he appreciates the assistance of the electric motor when navigating more difficult hills and headwinds. Dave and Carolyn love exploring Denver's many bike trails on their e-bikes and especially enjoy the 40-mile Cherry Creek Trail. There are also numerous other bike trails to explore throughout Denver, which has been recognized as one of the top five most bike-friendly cities in the U.S.
The e-biker population is booming, as people of all ages investigate alternative means of recreation, exercise and mobility. The next decade will be defined by battery-powered transportation and the vehicle leading the charge may not be the Tesla Model 3; it may very well be the motorized bike.
It has been estimated that 130 million e-bikes will be sold globally in the next three years. The most common e-bikes on the market today range from $400 to $2,000. Currently, bicycle stores are experiencing an immense amount of interest in motorized bikes and are struggling to keep up with the demand. E-bikes are the hottest thing on two wheels, and riding with an electric motor is not cheating – it's just darn fun!