The second annual Walk and Roll to Cure FSHD highlights couple's passion for a cause close to their hearts
August 1, 2017
/
/
Comments Off

on The second annual Walk and Roll to Cure FSHD highlights couple's passion for a cause close to their hearts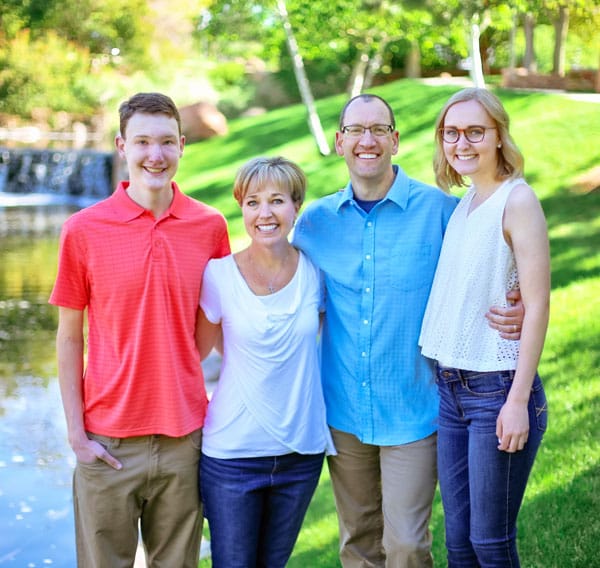 The Shuster family may be the only known case in which a married couple has FSHD on both sides of their family. The couple is involved with the FSH Society and are planning the second annual Walk and Roll to Cure FSHD on September 9 at the Philip S. Miller Park.
By Lynne Marsala Basche; photo courtesy of Leigh Shuster
Castle Pines residents Leigh and Rod Shuster have a dubious distinction. The Shusters may be the only known case in which a married couple has facioscapulohumeral muscular dystrophy (FSHD) on both sides of their family by sheer chance. After Rod was diagnosed with FSHD in 2006, the couple became involved with the Facioscapulohumeral Muscular Dystrophy (FSH) Society, and they are now passionate advocates for raising both awareness and funds to cure the disease.
For Leigh, FSHD travels through several relatives. Her paternal grandfather, who she was named after, had the disease. A paternal aunt, who was paralyzed and confined to her bed for five years, died of heart failure, which is a complication of not being able to move for so long, a few weeks before Rod was officially diagnosed with FSHD. Both of Leigh's aunt's kids also have the disease, and they were diagnosed as teenagers.
The Shusters, along with their two children, have been Hidden Pointe residents since 2003. Rod, who has always been athletic, began to notice that he was losing strength in his shoulders and that his muscles were deteriorating. A genetic test confirmed that Rod had FSHD.
Often called "the progressive muscle wasting disease," FSHD affects the face, arms, back and chest, abdomen and legs. While the disease is not terminal, it can be life-shortening, and it can severely impact a person's lifestyle. There are nine primary types of muscular dystrophy, and FSHD is one of the most common. Unlike Duchenne muscular dystrophy, which affects young boys and is most well-known when firefighters collect money in boots during the Labor Day weekend, FSHD does not discriminate between children, adults, men or women, and the disease has no ethnic or geographic boundaries. With an estimated one in 8,333 people affected worldwide, the numbers could be higher because not all cases are reported or diagnosed.
To date, Rod has participated in three research studies at both Johns Hopkins University and the University of Kansas, and he remains highly-functioning despite having FSHD. The progression of FSHD is different for every person, although the prognosis includes a loss of muscular strength that limits everyday activities and becomes debilitating.
Currently, there is no treatment or cure for FSHD, and the disease receives very little funding from the Muscular Dystrophy Association. The Shusters are involved with the Denver area network of the FSH Society, the leading charity focused solely on FSHD, and are busy planning the second annual Walk and Roll to Cure FSHD to raise awareness and much-needed funds to research the disease's cause, possible treatments and a cure for the devastating illness.
The Walk and Roll to Cure FSHD is September 9 at the beautiful Philip S. Miller Park in Castle Rock. The event consists of a three-mile walk and includes a live band, food trucks, face painters, balloon artists and activities for kids. Last year's inaugural event raised more than $20,000, and this year's goal is $40,000. All money raised from the event benefits the FSH Society, a 501(c)(3) nonprofit dedicated to curing FSHD.
"We don't know what the future holds," said Leigh, "but we need to find treatments and a cure for FSHD so that future generations won't have the disease."
Learn more about the Walk and Roll to Cure FSHD at www.fshsociety.org/fsh-events/walk-roll-to-cure-fshd-2017/. Donations can also be made to support this worthy cause if you cannot walk or roll on September 9.