Then and Now…Abby Kochevar
February 1, 2019
/
/
Comments Off

on Then and Now…Abby Kochevar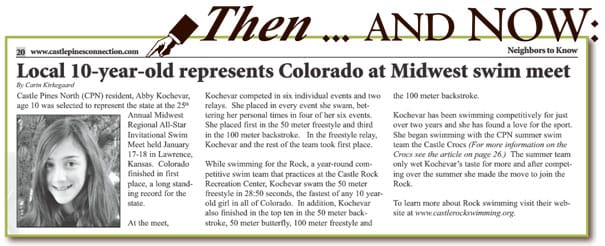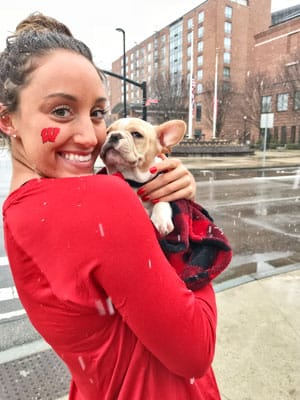 Abby Kochevar (20) is a junior swimming for the University of Wisconsin Badgers. Among her fans, her French bulldog, Sully.



By Carin Kirkegaard; photos courtesy of the Kochevar family
Ten years ago, Castle Pines resident Abby Kochevar was 10 years old representing her local swim team, the Castle Crocs. She was breaking state swimming records and bettering her own personal swim times. Fast forward to now and not much has changed.
In her younger years, Kochevar continued to hone her craft, swimming for fun with the Castle Crocs during the summers and focusing in with various year-round club teams in the Denver area.
When Kochevar reached high school, her swimming accomplishments continued to mount with the Rock Canyon Jaguars swim team. She earned three state championships in the 100 backstroke and one state championship in the 50 freestyle.
Her success, both with her high school swim team and her club team, earned Kochevar a spot at the 2016 Olympic Swimming Trials in Omaha, Nebraska – as well as an offer to come and swim for the University of Wisconsin Badgers.
While swimming for the Badgers, Kochevar competed in the Big 10 Championships each year, earning personal bests in each of her chosen events – the 100 backstroke, the 200 backstroke and the 50 freestyle.

Kochevar swimming the backstroke for the University of Wisconsin.
Being a student athlete at a Divison I Big Ten school is challenging, and Kochevar said that it is her teammates, as well as the strong support offered from the school, that has helped to keep her engaged. Recently, to help lighten the weight of swimming and school, Kochevar adopted a French bulldog named Sully.
"Swimming as a 10-year-old was pretty much just a fun activity. I never had any pressure or expectations. It was really just something to do with my friends. Now as a college swimmer about to go into the real world, I think swimming has really taught me the lessons of time management, discipline, perseverance and team work. A lot has happened since I was 10 years old. At times, I really hated swimming, but being resilient, pushing through hardships and remembering why I loved it so much as that little 10-year-old, has really kept me happy and proud of where I came from and where I am going!" said Kochevar.
Kochevar is currently a junior at the University of Wisconsin. She plans to graduate in 2020 with a degree in Communications and Entrepreneurship. She is also considering taking a semester to study abroad at the end of her swimming eligibility.
Long-term, Kochevar has plans to return to Colorado. She hopes to eventually open and run her own business.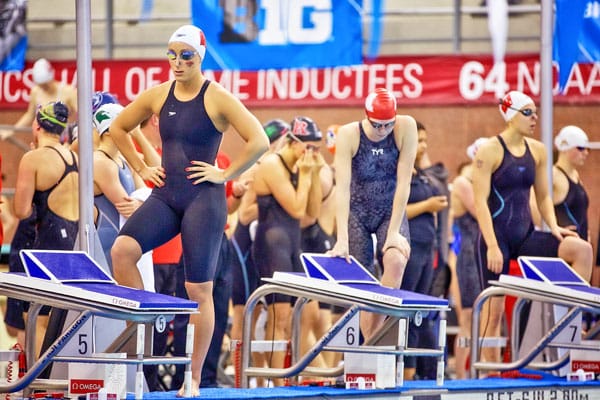 Kochevar looking off in the distance, mentally preparing for her race at a collegiate swim meet.