Thousands of Acres of Open Space to Surround CPN
May 1, 2005
/
/
Comments Off

on Thousands of Acres of Open Space to Surround CPN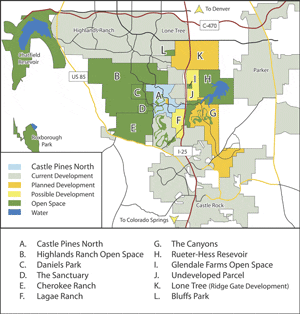 Written by Linda Nuzum, President of the CPN Master Association and Carin Kirkegaard, Staff Writer
Bulldozers digging on the eastern horizon; a homebuilder's "No Trespassing" signs to the north; and possible commercial development in the Castle Pines North area. Is it just a matter of time before Castle Pines North is surrounded by solid urban sprawl?
Actually, Castle Pines North (CPN) will always be surrounded by more than 15,000 acres of open space – nearly seven times the size of CPN itself. All of the land to our immediate north and west will always remain open. There will also be significant amounts of open space to our east. While some of the land to our east will likely be developed someday, future developments close to CPN will have lower densities than you might expect.
The map identifies which portions of northern Douglas County will remain as open space, and which can be expected to develop at some time in the future. Here's a summary of what's going to happen on each parcel of land in and around CPN. Use the alphabetic index to locate the parcel on the map. More than 90 percent of the homes in Castle Pines North have been built, and the remainder will be completed soon (see story). What will CPN look like when all is said and done?
A. Castle Pines North
CPN has a total of 2,200 acres. Of this total:
• 935 acres residential
• 800 acres are open space. Nearly 600 acres are dedicated as public open space, with 14 miles of trails and four current or planned public parks. In addition, The Ridge golf course provides another 220 acres of visual open space (although the land itself is private, and not accessible as a public walking trail.
• 360 acres for roads, and rights of way for roads and power line
• 80 acres commercial (46 acres current, 33 acres zoned but not developed)

WHAT CAN WE EXPECT ON THE LAND NEXT TO US?
B. North of CPN – Highlands Ranch Open Space
Head north along Daniels Park road or Monarch Boulevard and signage claiming property of Shea Homes appear along the fence line. This vast area of undeveloped land encompasses 8,000 acres of open space. According to the Highlands Ranch Master Plan, this land will never have residential or commercial development. The area that falls between Monarch Boulevard and Daniels Park Road could at some point have public and recreational uses. The 7,000 acres remaining will always be wilderness. Most of the area will remain fenced off as a wildlife preserve, but there will be some public trails. So why are there "Shea Homes" signs on a wilderness area? As the Master Developer for Highlands Ranch, Shea owned all of the Highlands Ranch property, including the portion that is planned as open space. As Shea finishes development in Highlands Ranch they will transfer ownership of this open space to the Highlands Ranch Community Association.
C. West of CPN – Daniels Park
Daniels Park, one of Denver's Mountain Parks, is directly west of CPN. Picnic areas and the shelter house perch on the cliff side and provide spectacular views of both the Front Range and Denver. The buffalo preserve make their home on nearly 1,000 acres of designated open space. Owned by the city of Denver, this park will always remain undeveloped.

D. West of CPN – The Sanctuary
The Sanctuary, a 220-acre private golf course, is located just west of the intersection of Castle Pines Parkway and Daniels Park Road.

E. Southwest of CPN – Cherokee Ranch
Cherokee Ranch lies just to the southwest of CPN. This 3,124 acre ranch will always remain undeveloped, and provide a home for elk, birds and other wildlife. The land is privately owned, however public tours may be scheduled.

F. Southeast of CPN – Lagae Ranch
Just east of CPN, the Lagae family ranch stretches from Castle Pines Parkway, south to Happy Canyon Road. A 10-acre section immediately south of Castle Pines Parkway is zoned for commercial development. The remaining 600 acres that comprise Lagae Ranch was recently sold to a residential developer, but no development plans have been announced. An extensive County approval process would be required before any development could take place, and Douglas County's master plan limits homes on this parcel to less than 300. (See story for more details.)

NOW, GOING EAST OF I-25 …
You may have heard the rumors that bulldozer activity just east of CPN's I-25 interchange signals the first step toward construction of 10,000 homes to be built on our eastern horizon. The facts are quite different than the rumors. The bulldozer activity east of the interchange is NOT related any impending housing development; it's related to the I-25 bridge construction and Rueter-Hess Reservoir. Eventually, there will be some residential development to the east, but no construction is imminent, and even when it occurs, CPN residents will not be viewing a mass of homes.

G. East of I-25: The Canyons
"The Canyons" is planned on the east side of I-25, stretching from CPN's Exit 188, continuing south past Happy Canyon Road, and wrapping around to the east of Castle Rock. The entire Canyons development will comprise 6,500 acres (more than 3 times the size of CPN), but have fewer homes than CPN — a total of 2,500 homes.
The majority of the homes will not be visible from the CPN community. The northern portion of the development will have extensive open space. A 500 acre strip of designated open space will run parallel to I-25. Beyond that strip there will be a regional park, and a golf course, with some homes clustered around the golf course.
Most of the homes will be clustered in the southern, higher-density portion of the development, which will be closer to Castle Rock, along Crowfoot Valley Road.
Douglas County approved the master plan for The Canyons five years ago, but the developer has not yet requested the additional County approvals that would be needed before construction could begin. No start dates have been announced.

H. NorthEast of I-25 Interchange: Rueter-Hess Reservoir
From the Castle Pines I-25 interchange, look northeast toward Parker. This is the site of the new Rueter-Hess Reservoir. The entire reservoir site will encompass 2,400 acres of land — larger than all of
Castle Pines North. The actual reservoir will have a larger surface area than the Cherry Creek Reservoir. When complete there will be open space and trails on the CPN side of the reservoir, and active recreation on the side closest to Parker. The reservoir is planned for completion in 2010. For more information on the reservoir, see the Rueter-Hess article.

I. North on I-25: Glendale Farm Open Space and Dog Park
Take I-25 north to the Surrey Ridge exit, and look immediately to the east. Glendale Farm is a 160-acre open space parcel that is owned by Douglas County. Trails are open to the public, and there is also a 5-acre off-leash dog park.

J. North on I-25: Undeveloped land next to Glendale Farm Park
Next to Glendale Farm is additional privately-owned land. The owners have not announced any intentions to develop the land.

K. North on I-25: Lone Tree – RidgeGate development
Continue north until you pass the "Welcome to Lone Tree" sign on the east of I-25, and the Sky Ridge
Hospital to the west of I-25. This entire area, continuing north to Lincoln, will someday be developed as the RidgeGate portion of the City of Lone Tree. RidgeGate will be the last stop on the Light Rail line. Around the rail station, the developers plan a high-density city-center high-rise offices and housing. Other portions of the development will have retail and single family housing. RidgeGate plans call for a total of 12,000 homes, and cover a total of 3,500 acres. It is expected that the entire development will take 40 to 50 years to complete. Some development has already begun in this area. A "Super Target" is under construction at the corner of Lincoln and Yosemite, scheduled to open in Fall 2005.

L. North on I-25, west of RidgeGate: Bluffs Regional Park
Bluffs Regional Park is located on Yosemite, south of Lincoln. This 250-acre Douglas County park has trails, overlooks with views of the Front Range, a picnic shelter and restrooms.

WHAT ABOUT COMMERCIAL DEVELOPMENT?
The Lone Tree/RidgeGate area to our north, and Castle Rock to our south, can be expected to house the major regional retail centers. There is will be no commercial space located anywhere in the Canyons development. Once homes are built in The Canyons, some of the residents can be expected to use CPN's Exit 188 and make a stop at the CPN-area retailers, however since most of the homes in this development will be located east of Castle Rock, many of these residents can be expected to frequent Castle Rock businesses.
The existing commercial developments near I-25 and Castle Pines Parkway, and the new retail center in Castle Pines Village, will provide local services for CPN and our immediate neighbors. In addition, three other parcels are currently zoned for commercial development. Click Here for an update on the CC-20 parcel, located at Castle Pines Parkway and Monarch. No development plans have been announced for the two other commercial parcels, which are located just north and west of the King Soopers.