Three Teachers from CPN Area Schools Nominated for Apple Awards
April 1, 2008
/
/
Comments Off

on Three Teachers from CPN Area Schools Nominated for Apple Awards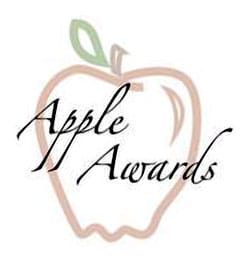 by Anthonette Klinkerman
One of the bigger honors a teacher can earn is an Apple Award. Teachers are nominated by peers and community members, as well as by their most important fans, their students.
This year, the Douglas County Educational Federation chose the theme "A World of Possibilities." More than 60 teachers throughout the district were selected for their unique abilities to create such a world for their students on a daily basis.
Local to Castle Pines North, Rocky Heights Middle School selected teacher Cameron Randolph to represent the school at the ceremony. He said, "The Apple Award nomination is a great honor among a tremendous staff of hard-working and talented teachers, many of whom are just as worthy, if not more so, of this recognition."
Rock Canyon High School faculty, students and family nominated Sarah Pascoe as its representative. "I work with an amazing group of teachers who do awesome things with our students daily, so I'm very humbled to be chosen as an Apple Award nominee," she said. "I am also grateful that I work in this wonderful district that shows so much respect for teachers with honors like these."
From Timber Trail Elementary, nominee Kristy Krier has taught elementary school for 11 years in Douglas County. She is honored to be chosen to represent her school at the ceremony, and has enjoyed having a story about her posted in the Castle Pines issue of the Denver Post's YourHub.com insert. She stated, "It's so rewarding to work in the Douglas County School District because they give you so many opportunities to learn."
Executive Director of the Douglas County Educational Foundation, Sean McGraw, holds the Apple Awards program in high regard. "It's a great way to celebrate teachers. The Douglas County Educational Foundation's existence is based on what they do, and we're real proud of it." He acknowledged the Apple Awards represent all of the highly talented teachers in the district.
The black-tie fundraising event will be held April 12 at the Hyatt Regency Tech Center. More awards will be presented, along with an iPod Shuffle for each nominee, and dinner and dancing to live music will follow.
Congratulations to all of the nominees.