Timber Trail Elementary students stargaze at school
January 1, 2013
/
/
Comments Off

on Timber Trail Elementary students stargaze at school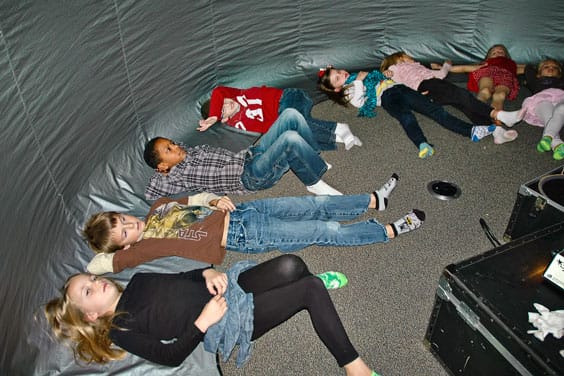 Timber Trail Elementary students study the night sky . . . indoors. A portable Starlab gave them a chance to learn more about planets and constellations in the school's library.
Article and photos by Lisa Crockett
The night sky can be a fascinating place to discover new things, but since elementary school students are not typically at school when it is dark outside, teaching about astronomy can be tough. But Timber Trail Elementary teacher Dawn Smith has found a solution. Borrowing the School District's "Starlab," an inflatable dome that replicates what a stargazer would see outside, she can teach about planets, constellations and other nighttime wonders. Smith, who runs the school's library, filled the library space with the lab, which is large enough to hold an entire school class.
Crawling into the dome in stocking feet and feeling their way in the dark, even very young students learn about the myths that gave the stars their names, the stars that helped seamen navigate hundreds of years ago, and the differences between the summer and winter sky.
"The knowledge kids learn here is something they can transfer to real life," said Smith. "I can use a laser pointer to help the kids identify stars and then they can do it when they really look at the sky."
Smith, who received special training on how to teach using the lab as a tool, plans to bring the lab back in years to come.
"We've had a lot of fun," she said. "We'll make this an annual event."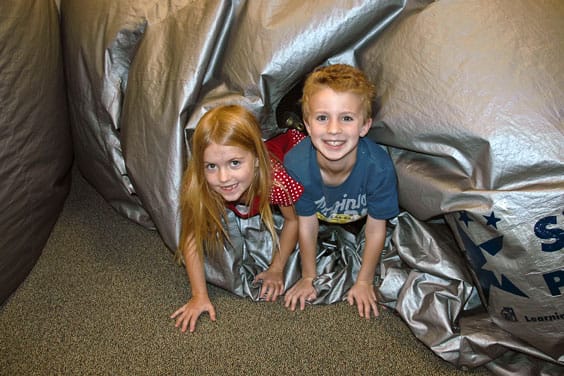 Timber Trail Elementary second graders Alivia Ball (left) and Jamison Warnke exit the Starlab, an inflatable dome used to teach students about astronomy.