Timber Trail gives deputies a break
April 1, 2013
/
/
Comments Off

on Timber Trail gives deputies a break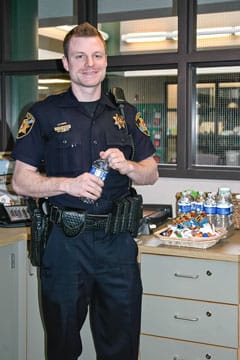 Deputy Matthew Bach takes a quick break at Timber Trail Elementary. The school's PTO and two local businesses sponsor a break station in the school's front office to foster interaction between law enforcement officers and the school.
Article and photo by Lisa Crockett
A cup of coffee or a bottle of water is a small thing, but sometimes it's the little things that make a relationship stronger. Timber Trail Education Alliance (TTEA) has teamed up with Castle Pines Pediatric Dentistry and Castle Pines Urgent Care and Family Practice to provide a simple break station in a corner of the school's front office. The break station is dedicated to providing a place for local law enforcement to re-charge. While they're in the school, officers not only get a drink or snack, they also gain valuable information about what goes on in the school.
Deputy Matthew Bach (and other officers like him throughout the county) spends time in the school parking lot in his car attending to administrative tasks like e-mail and computer reports. The school's fast wi-fi connection allows him to complete these tasks efficiently, and puts him in close proximity to students. The break station inside the school, as well as a standing offer from Douglas County School District that officers can have lunch in any school cafeteria free of charge, bring the officers through the front doors.
"I like to be in the school, I can come in and talk to the students during their lunch break and have positive interactions with them," said Bach. "It's also helpful for us to be inside the schools – every school is laid out differently and when I come inside, I then know where things are in that specific school. That could be helpful in an emergency situation."
The TTEA came up with the idea for the break station in collaboration with Timber Trail Elementary Principal Michelle Radke.
"We wanted an inviting place for law enforcement officers to come and feel comfortable, said TTEA Co-President Jill Cook. "We hope that by providing a snack or a drink, we can further develop a relationship between the sheriff's office and the school. We're happy to have the financial support of local business in this endeavor."