Time flies when you're having fun tying flies
February 1, 2017
/
/
Comments Off

on Time flies when you're having fun tying flies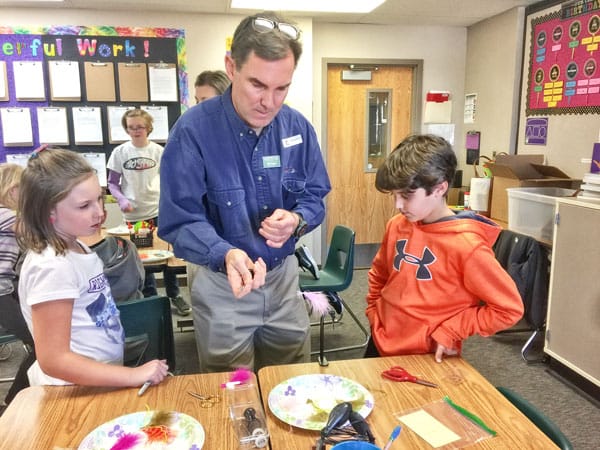 Brian Young, fishing manager at Orvis, donated his time to help BRE fifth-grade students Genesis Torres (left) and Evan Scanlon (right) learn about the art of fly tying.
By Kathy Fallert; photos courtesy of Lisa Recine
The Buffalo Ridge Education Alliance (BREA), which is the school's parent organization, asked each class at Buffalo Ridge Elementary (BRE) to complete a project that will be presented and auctioned off at the school's gala fundraiser, "Back to Prom" on Saturday, February 25. Debbie Nait's fifth-grade classroom decided to create a shadow box displaying fishing flies that were tied by each of the students.
Flies are used in fly fishing. The tied flies are intended to rest on the water's surface resembling real insects that then lure the hungry fish up to take a bite. January 10 was fly tying day, and fishing manager Brian Young, fishing manager at Orvis at Park Meadows Retail Resort ,generously donated his expertise and fly tying equipment to get the students tying like champs. Young was on-hand to educate the class on how fly tying is done. Nait and all 28 kids each created an individually designed fly. Brown trout should consider themselves forewarned!
To find out more about BRE's upcoming gala, to preview auction items or to purchase tickets, visit their website at www.buffaloridgegala.com.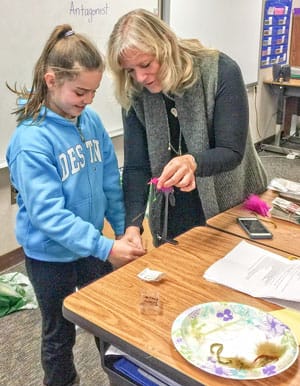 Fifth-grade teacher Debbie Nait dove right in to help student Isabella Harris tie some flies for the school's fundraiser next month.