Trail Mix – Highlands Ranch Wildcat Trail Still Closed to CPN Residents
April 1, 2007
/
/
Comments Off

on Trail Mix – Highlands Ranch Wildcat Trail Still Closed to CPN Residents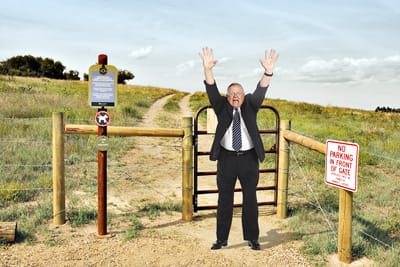 by Lisa Crockett
A community effort to reach an agreement with the Highlands Ranch Community Association (HRCA) regarding the use of the Wildcat Trail (pictured above) is still underway; however, at this time the future of the project remains uncertain.
Talks between the HRCA and the Castle Pines North (CPN) Master Association have failed to yield a compromise, as have petitions and media attention. Highlands Ranch maintains that the property, which was deeded to HRCA by Shea Homes, is a private amenity for its residents and that allowing public access would dilute its value.
Community volunteer and CPN resident Ben Lockett has spent most of last year working to see if the trail, located between CPN and Highlands Ranch on Monarch Boulevard, might be open to the public. Lockett remains hopeful that the land will be open, given the vague language in the legal definition of "open space."
"After looking through many documents, I think it's possible this trail could be open for the enjoyment of everybody and not just fee-paying members," said Lockett. "Any decision is now in the hands of the County Commissioners."
Whether or not the Commissioners have legal standing to effect any sort of change is unknown, and the Commissioners have not made any public comment on the matter. Phone calls from The Connection to the Douglas County Commissioners office were not returned as of press time.