Tree bugs pose a challenge for communities
June 1, 2009
/
/
Comments Off

on Tree bugs pose a challenge for communities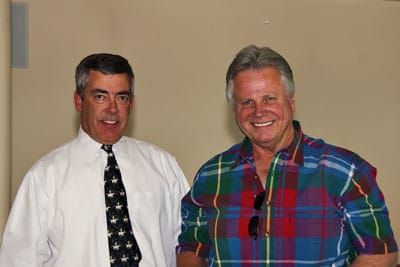 Jeff Huff, the president of the Hidden Pointe Metro District and Horticulture Specialists, Gary LeCaptain
by Lisa Crockett
Spruce trees in the Castle Pines community are threatened by infestation from a new culprit, the White Pine Weevil, and Jeff Huff, the president of the Hidden Pointe Metro District, is working with local experts to do something about it.
"Here in Hidden Pointe we treated all spruce trees with insecticide in late April. Individual homeowners may want to take similar precautionary measures," said Huff.
Hidden Pointe contracted the services of Horticulture Specialists to combat the problem of the White Pine Weevil and to educate residents to help identify affected trees. A representative from Horticulture Specialists, Gary LeCaptain, spoke at the Metro District meeting in May.
Infected trees have a characteristic brown "leader" which is often curled into a wilted "shepherd's crook" shape at the top of the tree. Spruce trees are most often affected, though Douglas Fir trees may also be at risk. Infestation from the White Pine weevil can damage or kill host trees.
"While all of Castle Pines North has this problem, in some areas it appears that more than thirty percent of all the Colorado Blue Spruce have come under attack," said Huff.
Treatment for weevils is available from local horticulture service companies.