Tricks to beat the (mealtime) heat
August 1, 2016
/
/
Comments Off

on Tricks to beat the (mealtime) heat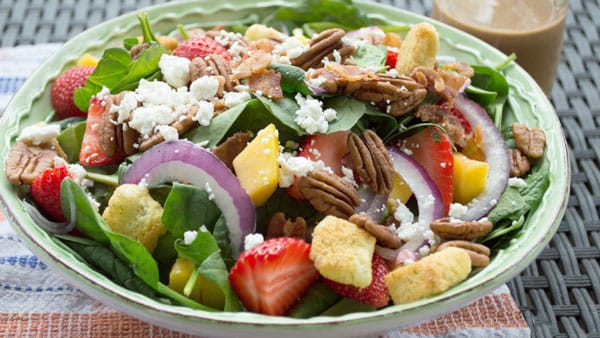 By Lisa Crockett
It's hot. Like, melt your face off, lay down and die hot. So the last thing you are likely to want to do is step into the kitchen and get cooking. Still, it's pretty likely that you (or someone who lives with you) will want to eat something on a regular basis, despite the surface-of-the-sun conditions outside. Here are a few ideas to keep you from subsisting on nothing but ice cream this month:
A Salute to Salad
Salads are a great main dish during the summer. They include ingredients that are meant to be cold, they can be tailored to just about any preference, and they are a great way to use up leftover protein from previous meals. Don't be afraid to use ingredients you might not normally associate with salad. That leftover burger from last night's grill session? Chop it up, toss it with iceberg lettuce and tomato, drizzle with a mixture of mayo, mustard and ketchup, top with a little shredded cheddar and voilà! A delicious, de-constructed cheeseburger.
Meatless Monday . . . any day of the week
Gazpacho or cold cucumber soup with a side of crusty bread is cool and refreshing. Beans and potatoes, which can be quickly cooked on the stove, are a great way to give a meal some substance without using the animal protein that requires the heat of the oven to prepare. Cheese can play a starring role too – a mixture of cubed Italian bread, cubed fresh mozzarella, chopped tomato and basil drizzled with olive oil, salt and pepper is a light and satisfying no-cook meal.
Fire up the Grill
Grilling keeps the heat where it belongs, outside. For a change of pace from the usual hamburgers, hot dogs and steaks, marinade chicken tenders in a mixture of equal parts soy sauce, lemon-lime soda pop and canola oil. Throw the tenders on the grill – they cook quickly, so pay close attention – and serve with watermelon and a tossed green salad for a fresh, cooling meal.
Get Out Your Gadgets
You likely have a slow cooker in a cupboard somewhere, and it can be used to great effect during a heat wave. (If the heat is really awful, you can even put the slow cooker in a corner of the garage, keeping its warmth well away from your living areas.) Think about other appliances too, a griddle is great for loaded quesadillas, a rice cooker can produce the filling for burritos. Do you have a countertop grill or waffle iron gathering dust somewhere? Buy prepared pizza dough and cook it on a very well-oiled grill (about 5 minutes), once the crust is light brown, add a light layer of tomato sauce and cheese, allowing the cheese to melt with the top of the grill open for a tasty pizza produced without turning on the oven.
Get your inspiration from breakfast and lunch
Eggs cook in just minutes and make a satisfying meal any time of the day. A sandwich is typically lunch fare, but made with fresh ingredients it's tasty and quick. For something a little more special, chop three or four slices of deli roast beef and wrap in spring roll wrappers along with a mixture of bean sprouts, chopped cabbage, lettuce and cilantro. Dip the wraps in a sauce made of equal parts peanut butter and warm water with Sriracha hot sauce, soy sauce and honey to taste.
Don't Forget Dessert
Smoothies and milkshakes are tasty on a hot day. Well-chilled watermelon and frozen grapes are great too. For a more elaborate treat, layer sliced bananas in the bottom of a prepared graham cracker crust, freeze for 20 minutes, then top bananas with softened vanilla ice cream, filling crust completely. Allow the pie to set in the freezer for a few hours, then serve drizzled with chocolate syrup and toasted coconut shavings.