TTE families help feed the hungry in and around Douglas County
August 1, 2017
/
/
Comments Off

on TTE families help feed the hungry in and around Douglas County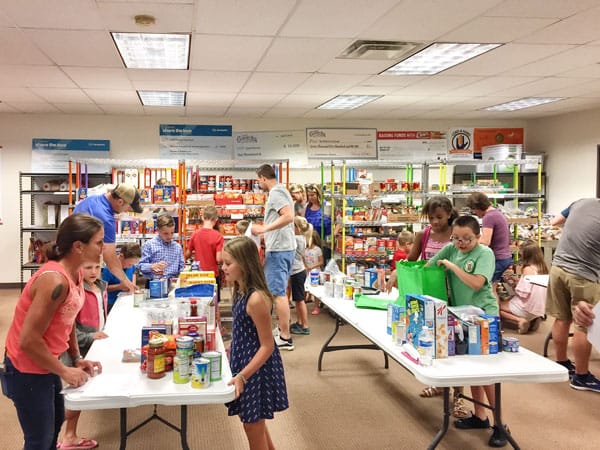 Six TTE families worked together to pack food bags for almost 70 families in need. Individualized lists were used to gather food items for Fresh Harvest.

By Lynne Marsala Basche; photos courtesy of Anna Spitzer
Castle Pines resident Anna Spitzer and her family actively volunteer in the community. Last year, Spitzer approached Timber Trail Elementary (TTE) Principal Michele Radke and the Parent Teacher Organization about incorporating giving back at TTE and gathering other families to make an even larger impact. A partnership between TTE and the Fresh Harvest Food Bank kicked off at the end of the spring semester.
The Fresh Harvest Food Bank serves families in and around Douglas County. Ninety-five percent of the donated items are provided through the community, and 100 percent of all monetary donations are used for families in need. Fresh Harvest is supported through the generosity of donations and is not government funded. Typically, the Fresh Harvest Food Bank (Fresh Harvest) provides more than 9,000 items per month to families in need.
Despite the TTE and Fresh Harvest partnership beginning at the end of the last school year, the students on the fourth- and fifth-grade leadership teams were able to work with the new philanthropy committee, which is chaired by Spitzer, to coordinate a spirit week to collect donations to benefit Fresh Harvest. Participating students donated spring clothing and school supplies or one dollar each day to dress up according to a theme. The spirit week activities raised $770, and collected 207 clothing items, as well as one large box of school supplies.
On distribution day, fresh produce and dairy products were added to the food bags. Families left with three to four bags of fresh food items and two to four bags of canned and boxed food.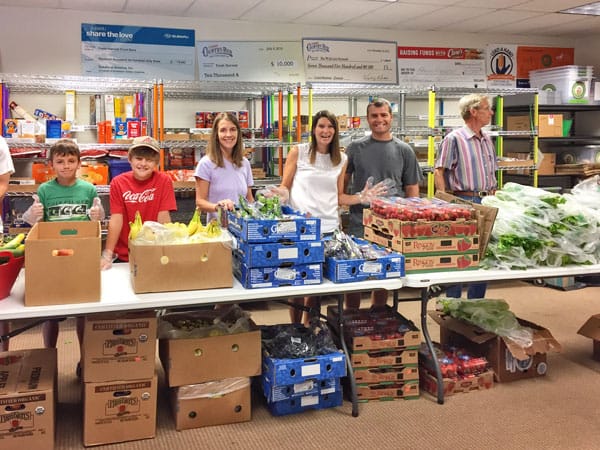 On July 7 and 8, TTE had the first kick-off Fresh Harvest volunteer event with other families from the school. On Friday night, six TTE families helped pack food bags for almost 70 families using personalized checklists. Most of the things gathered were canned goods, cereal and other non-perishable items.
On Saturday, four TTE families met at the Fresh Harvest facility to distribute the food bags. At tha
t point, all bags received fresh produce and dairy products. "I was able to give the mother of eight children strawberries, and her struggle is so real and so raw with the things she shared that she is going through," said Spitzer. "I loved being able to look into these mothers', fathers' and grandparents' eyes and say, "I am so glad you are here." Families left with three to four bags of fresh food items and two to four bags of canned and boxed food.
"The kids were really nice who came in to get food, and I talked to them a lot and played with them," said second-grade student Brock Spitzer. "They were just like someone who I would go to school with and play with. They were very thankful for what they got. It was a lot of fun."
After families had received their bags of food, they were able to browse the clothing and shoe racks filled with the TTE donations from the spring.
"I love how we are already coming together as a school to find ways to make a big impact for Fresh Harvest Food Bank and streamline our giving together making it easier for families to know what is happening as well," said Spitzer. TTE will continue to partner with Fresh Harvest through quarterly volunteer opportunities.
To learn more about family-friendly volunteer opportunities at Fresh Harvest, visit www.freshharvestfoodbank.org.