TTE fifth grader knows how to "bee"
April 1, 2011
/
/
Comments Off

on TTE fifth grader knows how to "bee"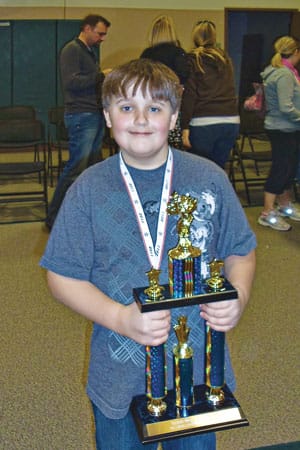 Fifth grader Thomas Connelly represented Timber Trail Elementary School and Douglas County School District at the State Spelling Bee in March.
by Lisa Crockett photo courtesy of the Connelly family
For many of us, pumpernickel is simply a kind of bread, but for Timber Trail Elementary fifth grader Thomas Connelly, "pumpernickel" is a winning word – it was the word he spelled correctly to win the school spelling bee.
"I usually get good grades on spelling tests at school," said Connelly, who seems to have a knack for spelling. "But I have also been studying, writing words down to help me remember them better and studying roots from many different languages including Spanish. Italian, Latin, Greek, Dutch, Slavic and Chinese."
From the Timber Trail bee, Connelly went on to the Douglas County School District bee, where he competed against 74 kids, many of which were considerably older than he is. From there, he made the cut to compete in the state bee, holding his own with the 280 fifth through eighth graders who came to Castle Rock from all over Colorado.
Connelly's interests are not restricted to spelling – he likes to play guitar and is an avid football player. "When I'm older I'd like to go to the Air Force Academy or maybe be a professional football player or a musician," said Connelly.