UBER: A ridesharing solution; revolution
April 1, 2014
/
/
Comments Off

on UBER: A ridesharing solution; revolution
By Joe Gschwendtner; photo provided by Will McCollum
Smart phone applications usher in new ways of living for many of us. If you have not yet heard of UBER (oo-ber), a ridesharing technology platform, get ready. It's coming soon to our Castle Pines neighborhood.
Started in San Francisco in 2001, UBER was launched by Travis Kalanick. Kalanick was nothing if not brash and aggressive and his transportation model was intended to "blow up the traditional taxi business." And, indeed, it has done just that.
UBER lead generation technology is about conveniently finding a ride by using one's smart phone application. Instead of hailing a cab or calling anyone, you'll use your smart phone app to go online and reserve your ride. Then, you'll track the nearest UBER vehicle moving to your location on a street map. The driver's face, satisfaction rating, and license plate number are also displayed, data points enhancing passenger safety and peace of mind. If you are budget-minded, use the ride cost estimates on the app before you finalize your reservation. UBER claims its fares can sometimes be 30 percent lower than the competition.
Once en route to your destination, the driver's app uses GPS to collect data forwarded to UBER's servers for accurate billing and receipt information. At ride's end, payment details are settled quickly using smart phones that act on pre-arranged credit data. No tip is necessary as the pricing model has incorporated the gratuity.
All drivers have been agency-vetted for driving and criminal records and their vehicle has also been inspected for safety and quality. The owner will have also undergone additional driver training. No vehicle older than nine years is allowed in the inventory and every ride is backed by $1.5 million of liability insurance. UBER offers two transportation selections: the conventional ride – UBERx, and the higher priced town car or SUV – UBERblack. All vehicles are black with minimal markings.
Drivers own their cars and are genuine partners in the UBER transportation solution, points out Will McCollum, UBER area general manager. Rather than dealing with a harried cabbie driving a leased Crown Victoria with several hundred thousand miles on the odometer, you will interact with a small businessman, anxious to please you and build his public satisfaction level. Then, in a role reversal, you wind up in the "driver's seat" since you will then rate your experience and affect his livelihood.
UBER has been seen as a serious business threat to conventional cab companies whose principals are often well-connected politically and whose business models tend to make all but its drivers prosperous. As a result, some of UBER's market entries have been hotly contested by owners of city taxi medallions, government-granted franchises, and licensing privileges that screen out competition.
Denver was UBER's fifteenth major market entry in August, 2012, and is just now working out the final public utility permitting requirements. Colorado SB125, a ride-sharing bill passed on March 10, indicates that our lawmakers are finally developing a comfort level with the concept.
UBER coverage does not today extend south of Park Meadows. Yet, McCollum advises that Castle Rock is already an UBER destination. As this trend continues and grows, it will soon put drivers (car inventory) in position to begin journeys here as well. It's all about logistics.
One thing is certain. Limousine service in the Castle Pines area is already brisk. If the UBER transportation solution can provide a better, more reliable experience, they will likely find Connection readers very welcoming.
To learn more about UBER Denver, visit www.uber.com/cities/denver.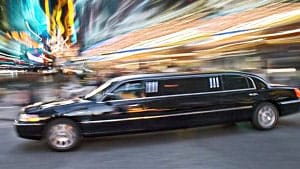 UBER's business partners provide a clean, safe, and discreet ride experience. Payment is pre-arranged, allowing for no cash exchange and no tipping of drivers.