Update from the City Manager
April 1, 2011
/
/
Comments Off

on Update from the City Manager

On Saturday, March 12, 2011, nearly 200 citizens of Castle Pines joined with members of the city council and city staff for a pancake breakfast to celebrate the city's third anniversary. As the event unfolded, it was evident how far the city has come in three short years. Thanks to the perseverance and the commitment of the Castle Pines community, the city has grown from a dream to a reality.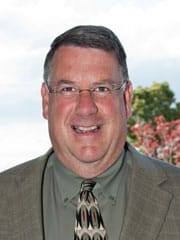 James McGrady
City Manager
City of Castle Pines
Most residents may not know that the city currently has approximately $2,700,000 in the bank, despite having gone through some of the most trying economic times in our nation's history. The city does not owe a single dime in debt, having paid off all of its start-up costs.
Now the time has come for the city to focus on specific needs of this community. The city has budgeted $450,000 in road improvements for 2011. This is just the beginning. The city has completed a pavement management program that provides guidance for future road improvements during the next five years. The projection is that in 2012 and beyond, the city's commitment to improving roads in the community will increase annually to more than $600,000 without increasing taxes. Funding road improvements at this level is
enough to keep the roads at an acceptable standard during the next several years.
This city has much to be proud of. It is the citizens of Castle Pines who are responsible for the success thus far. The trust that citizens have placed in the city staff is not taken lightly. Rest assured, the city will manage all of its financial and human resources to the very best of its ability. The city will continue to thrive and grow, in part, because city staff and city council are committed to continuous improvement and maintaining the city's sound financial position. Thank you for your trust and support.