Welcome to the flight club
December 1, 2017
/
/
Comments Off

on Welcome to the flight club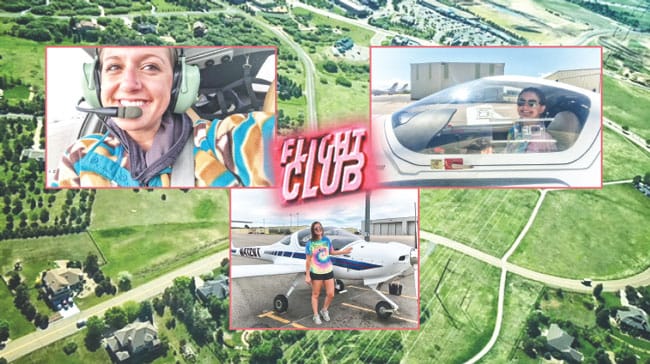 A number of people from the 80108 ZIP code and surrounding area are turning to flight clubs in effort to earn their private pilots license. Some are learning to fly as a career choice while others are seeking an adventurous new hobby. Pictured above is 2017 Rock Canyon High School graduate Grace Beall, who began taking flying lessons last April and already has 55 hours in the air, including solo and cross-country flights.

By Daniel Williams; photos courtesy of Aspen Flying Club
In her work at Aspen Flying Club (AFC), Castle Pines resident Carissa Mulstay often meets with people when they sign in to fly. She said some days it can be like working at a Starbucks with such a steady flow of people milling in all day, showing up for their flight. As she would greet the pilots for sign in, Mulstay began to notice an interesting trend.
"I would look at their membership information, and I kept seeing the same thing over and over again – 80108, 80108, 80108, 80108."
One day she discovered a longtime neighbor was a regular member who flew weekly at AFC. "I'd been his neighbor for years and years and had no idea." And there were others, too; friends, and friends of friends in Castle Pines who were living out their dreams of flight in private.
It was almost like they had made a secret pact, like in that famous scene from the movie "Fight Club," when Tyler Durden (Brad Pitt) stands up and tells the group, "The first rule of Fight Club is – you do not talk about Fight Club. The second rule of Fight Club is: You DO NOT TALK ABOUT FIGHT CLUB!"
Although, in the case of AFC, people were talking about it – at least they were in certain circles. Grace Beall, a 2017 graduate of Rock Canyon High School, learned about the club from a friend of her dad's who had a teenager learning to fly at AFC. One day, her dad's friend offered to take Grace flying.
"We took off from Kelly Airpark in Elbert," said Beall, who had dreamed about one day becoming a Life Flight helicopter pilot or the pilot of a private jet, but had not yet gotten serious about it. "That flight really sparked my interest. We flew into Centennial Airport and had breakfast and then flew back. It was such an amazing experience. I knew after that I wanted to start training."
Grace began training in April of this year and already has 55 hours in the air. In that short amount of time, she's piloted her first solo flight and her first cross-country flight and, on November 26, she will take her checkride, which is the final step in order to earn her private pilot's license (PPL). At that point, she will meet with a Federal Aviation Administration (FAA) designated pilot examiner to demonstrate her proficiency. Once she does that (and passes) she will have her PPL.
That might seem fast, and it is. "Grace and a handful of other high school and college-age girls have been on a fast track to get their pilot's license," said Mulstay. "They have all been coming in for training 3-4 times a week with 2-3 hours per session. When you have that commitment, you can get your license in six months, but normally it takes much longer."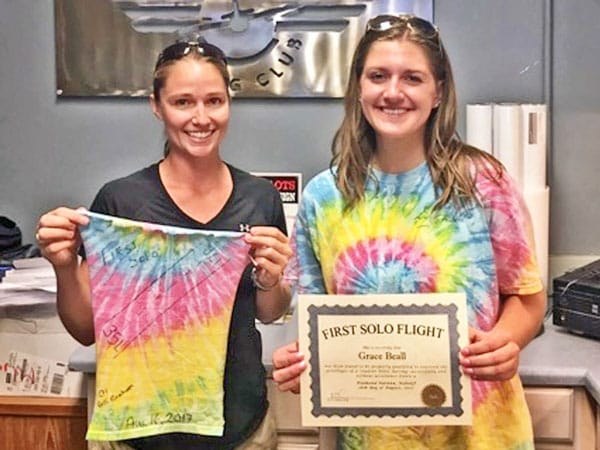 Aviation tradition dictates that when someone solos for the first time, a portion of their shirt be removed and inscribed with the details of the flight, usually by the flight instructor. Grace Beall (right) holds her solo certificate while her flight instructor holds the back of Beall's shirt.
AFC is located in Dove Valley at Centennial Airport. According to the FAA, Centennial is the busiest general aviation airport in the U.S., with 1,600 arrivals and departures considered a slow day. In fact, it has become one of the 30 busiest airports in the country, outpacing many of the nation's big commercial airports.
With all that traffic, Grace said her dad, who is an air traffic controller at Denver International Airport, had some concerns. "As an air traffic controller, he knows how busy it can be and he knows all the talk that's going on up there. He told me, 'Grace, you're only flying weekdays and mornings.' I was fine with that, but now that I've gone through training, I feel comfortable up there, and I'm flying Saturdays and Sundays as well."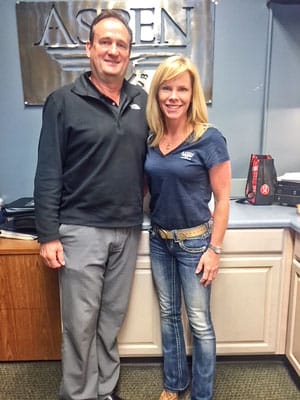 Aspen Flying Club owner Greg Garvis (left) and Castle Pines resident Carissa Mulstay (right) enjoy bringing the fun of flight to the community.
Greg Garvis, who is an American Academy parent and is the owner of AFC, said people have different reasons for wanting to fly. "Over half of our new customers are learning to fly as a career choice, hoping for a career in the airlines. With the growth in air travel, in passenger service, and the pilot shortage due to the FAA's mandatory retirement, there will be a huge demand for new pilots for decades." (A study by Boeing Co. estimates that 18,000 pilots will retire over the next three years.) Others get into flying for more personal reasons. "Some come to it for the basic thrill they get from flying," Garvis said. "Others are seeking a rewarding hobby." AFC balances the varied goals of some 700 active members – 58 of them hailing from the 80108 ZIP code.
Flying can be expensive and very time consuming. For many pilots, all the technical and proficiency training and all the expenses that go along with it are all worth it to return to those moments of unbridled freedom that are found – and often left – in childhood. Welcome to the flight club.