What's your APPtitude? Cook'n for the holidays
November 1, 2019
/
/
Comments Off

on What's your APPtitude? Cook'n for the holidays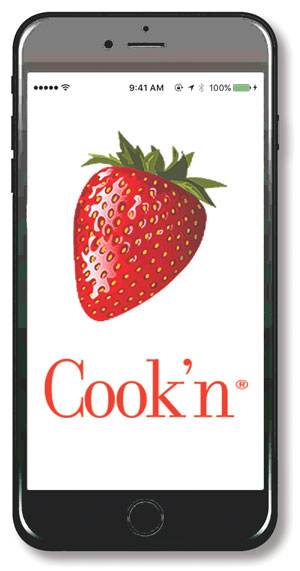 By Kathy Fallert
It's hard to believe it's November already. But here we are, and Thanksgiving is coming up quick! Cooking holiday dinners usually falls on my plate every year, and this year is no exception. I was looking for an app that would help keep me organized this holiday season with grocery lists, recipes and meal plans. The Cook'n recipe organizer app is exactly what I was looking for.
Cook'n is a free app developed by DVO Enterprises and is available for iOS and Android users. With this app you can search and capture internet recipes with one click, enter your own recipes easily, make meal plans with a visual menu planner, auto-generate a shopping list, calculate nutrition of your recipes, capture and sync recipes from Pinterest, scan printed recipes, discover new recipes with a live recipe feed, import recipes from Microsoft Word and more.
It's not just the recipes but the meal plans that are convenient as well. You can keep all of your recipes in one place and keep them handy on your phone which helps when grocery shopping. You can even make your own family cookbook with this app. It can also help you track your dietary restrictions for those with diabetes or other health considerations.
However you want to enter your recipes into Cook'n, video tutorials by creator Dan Oaks are on the app to help you with the processes. You can either take a picture with your phone or scan it in with no need to type in the recipe. It takes a few minutes to watch the tutorials and get the hang of it, but then you are rolling. It is worth the few minute investment, as the results are well worth it. Even if the recipe has grease stains, smudges, weird fonts, not to worry! Cook'n will help you sort it all out and get it looking like new. It will keep your original scan attached to the recipe but will also put the recipe in a user-friendly and consistent format lickety-split. It even works with handwritten recipes.
In addition, Cook'n has Cloud access which is an off-site backup of your recipe collection for added protection against data loss. It also has a user-friendly search function in which you can enter ingredients that you have on hand and connect them with recipe options. Make your holiday meal planning easier on yourself and get a little help from Cook'n.