What's your APPtitude? During this season of giving, raise your game with Donor Up
December 1, 2018
/
/
Comments Off

on What's your APPtitude? During this season of giving, raise your game with Donor Up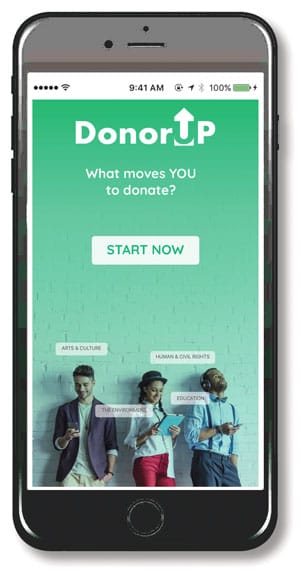 By Amanda Merriman
As we enter this time of year, thoughts often turn toward philanthropy. There are a myriad of options available to those considering donating. It can be a difficult and time-consuming task, deciding which charity to support. Luckily, I discovered DonorUp.
DonorUp is free to download on iOS and Android devices. The creators of this app realized the importance of connecting people with charities that are meaningful on an individual level. After downloading the app, users create a philanthropic profile. The profile includes things such as your free-time interests, preferred philanthropic categories, and tags that reflect missions you believe in. A portfolio of potential charities gets created from this information. From this list, you can click on each organization to learn more about its background. DonorUp provides links to websites and social media affiliated with the nonprofit.
I believe it is important for potential donors to research nonprofits prior to giving. When it comes to giving, what really sets the app above is the seamless connection to donations. You can choose a specific monthly amount to give, from as little as $1. You can even choose to do so anonymously.
After completing my profile, I did not see any charities in Colorado that matched my interests. However, you can search for specific charities and request an addition to the app's database. Even though I prefer to give locally, it was interesting to widen my possibilities. Like many people, I have ties to other places through life experiences like family, college and travel. What intrigued me most about the app was discovering new causes that resonated with me on a personal level. I enjoy the idea of giving monthly knowing that organizations need help throughout the whole year, not just during the holidays. The app also gives me the ability to organize my contributions in one place and easily adjust payments as necessary. Additionally, DonorUp will provide you with an itemized list of your tax-deductible donations. DonorUp truly gives a fresh way to connect people to causes that resonate with them.