What's your APPtitude? Slow down for a moment. Let's get Calm
August 1, 2017
/
/
Comments Off

on What's your APPtitude? Slow down for a moment. Let's get Calm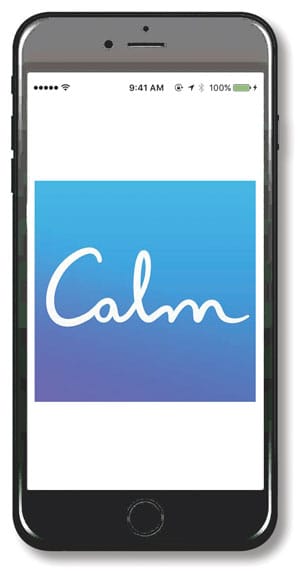 By Amanda Merriman
During the past few years, the idea of mindfulness has been omnipresent in our culture. For instance, there is a pilot program on mindfulness for students and teachers at Bear Creek Elementary here in Douglas County. Workplace wellness sessions can be found in many businesses, and classes geared toward aging gracefully through mindfulness are in many communities. Naturally, many apps have appeared on the market to help people learn about this form of meditation. Calm is one of the free apps available for iOS and Android.
Immediately upon opening the app, I was greeted with relaxing sounds and imagery. This really appealed to my sensibilities. The app has a program that is great for beginners to get acquainted with this practice of gentle awareness called "7 Days of Calm." With this program, you learn the basics, such as concentration and working with thoughts through guided bite-sized experiences lasting around 10 minutes each. Calm also offers a sample collection on topics like resilience, gratitude and choice. Additionally, you can use the app as a timer for unguided meditation – it plays a bell sound to remind you to stay present.
Other free features include deep breathing exercises and sleep stories. (Isn't there something so relaxing about having someone read you a bedtime story?) There is also an option to purchase a self-renewing monthly or yearly subscription which unlocks a large variety of guided sessions. Users can also purchase a lifetime subscription. I have not taken the plunge into subscription-hood, as I think there are so many free options (such as books and other apps) out there.
Initially, I felt there was something counterintuitive about using technology to increase mindfulness. There has been some concern that westernizing this Buddhist philosophy would not be respectful of its original intent. However, I feel that the beauty of having access to knowledge from other cultures creates the ability to incorporate them in your own personal way. I think the app has been an excellent way to introduce me to mindfulness and increase the likelihood that it will become a habit and not just a passing fancy. After all, as many have said, "How others see you is not important, how you see yourself means everything."