What's your APPtitude? Your portable link to Santa
December 1, 2017
/
/
Comments Off

on What's your APPtitude? Your portable link to Santa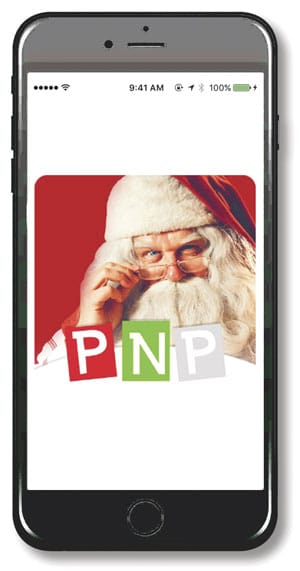 By Amanda Merriman
Christmas is such a magical time of year, especially when you have children in the house. Portable North Pole (PNP) has an app that can be incorporated into your family holiday traditions to enrich that experience.
What makes PNP so special is that Santa and his elves use it to send messages to your loved ones. We have used the website version for years in our household, but we are geared up to use the app this season. I will never forget my children's expression the first time they watched their first video. PNP also has messages for the grown-ups in your life too, which is a great source of amusement between my husband and me. The best part is, the videos can be saved to your computer.
Apple and Android users can download the PNP app for free. The app has a section for kids where they can view Santa's messages and play Christmas themed games. Parents have their own password-protected section as well, and they can also check out toys and gifts available for purchase. For instance, Santa has a new generation of elves that need your child's help in learning the difference between naughty and nice. These aptly named Do-Good Elves like to play too (they are a durable plush toy) and come with four personalized video messages from Santa. The North Pole has puppies and baby reindeer that also need training. PNP has a storybook available for purchase that parents can read every night as the family counts down to Christmas. PNP uses Amazon to help get these special treats to your home, as the elves are hard at work making toys for those on the nice list.
In addition to the standard video messages, Santa can also send premium videos and phone calls to your loved ones. Unlimited passes are available and allow parents to get premium features at a discount. One of the neatest premium features is the ability to record your child's reaction through the camera on your mobile device. The nice thing about premium features is that whenever you purchase a personalized video or phone call, a portion of the proceeds are donated to the Children's Hospital nearest you. Children's Hospital of Colorado is on the list of participating hospitals, so you can make a difference locally!
Be sure to check out the PNP app and have a little extra fun with your loved ones this holiday season.