Young entrepreneur creates cupcakes from the heart
October 1, 2011
/
/
Comments Off

on Young entrepreneur creates cupcakes from the heart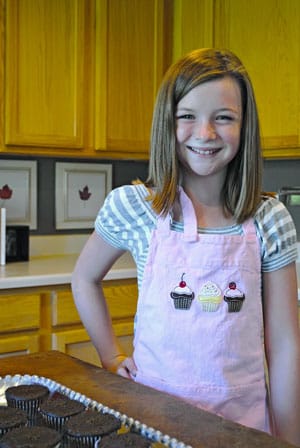 Lyla Padden in the kitchen of her home business Flour G.

by Amy Shanahan
"Take an X-Ray of me, my heart is pure cupcake" is the quote that Lyla Padden uses to describe herself. Padden is a sixth grader at Rocky Heights Middle School, and is the proud owner of Flour Gal, a business that she created which features cupcakes made from scratch and using only the freshest ingredients. Padden started her business in September of 2010, by passing out cupcakes and brochures to her neighbors and local businesses. Her orders are taken and managed via her website at www. Flourgal.com.
Padden enjoys watching "Cupcake Wars" and "Cake Boss" on TV and uses that as her inspiration for her unique flavors. Aside from standards like Vanilla, Chocolate and Red Velvet, Padden also offers unique flavors like MexiCali; vanilla cake with avocado butter cream frosting and jalapeno jelly filling, Pina Colada; and vanilla cake with coconut butter cream and pineapple preserves filling. "I've really loved to bake since I was little, and I decided to open up a business to bake cupcakes on a standard basis," said Padden, "I just love to see how satisfied the people are after they get them."
In June of this year, Padden entered a Young Entrepreneurs Contest sponsored by the Young Americans Bank in Colorado. In it's 10th year, this contest is open to innovative youths in Colorado, ages 6 to 21. Padden filled out an extensive application and entered her business into the age 6-11 category. She was selected as one of only two finalists against a record number of applicants, and on September 15, Padden was recognized at an awards ceremony where she showcased her business and was awarded a check for $250.
In her spare time, Padden enjoys playing volleyball and softball, and she works hard in school as she hopes to attend Princeton University some day. She enjoys bringing her cupcakes to sick children at Children's Hospital, and looks forward to having her own storefront in the future. Her mom and dad, Andrew and Monica Padden, remarked, "We couldn't be more proud of her. Lyla is a remarkable girl with her sights set high, but she remains grounded. Flour Gal cupcakes are special, unique and good…just like the baker!"