"Youth Education & Safety in Schools" (Y.E.S.S.)
March 1, 2010
/
/
Comments Off

on "Youth Education & Safety in Schools" (Y.E.S.S.)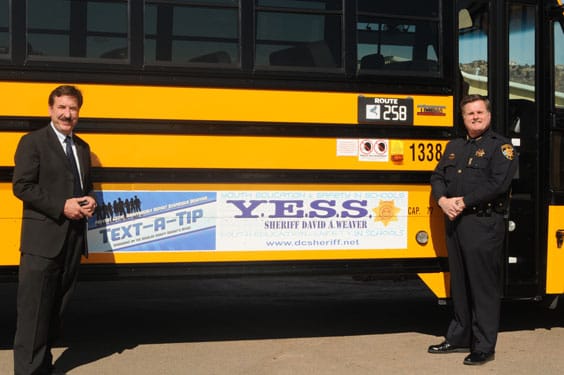 Sheriff Dave Weaver and Interim School Superintendent Steve Herzog, standing next to one of the buses

Submitted by
Deputy Cocha Heyden, Public Information Officer
Douglas County Sherifff's Office
Whei Wong, Douglas County Educational Foundation

Sheriff Weaver Partners with the Educational Foundation on Getting the Word Out
Douglas County Sheriff David A. Weaver is excited about his current partnership with the Douglas County Educational Foundation, Douglas County School District and the buses that take county children to their schools.
Twenty Douglas County School District buses now display signs that promote two very important programs, sponsored by the Sheriff's Office. The Text–A-Tip program, which utilizes the same technology as Crime Stoppers, allows a student to send a text message in real time to the Douglas County Schools and local law enforcement on important school concerns such as in progress criminal events; for example a fight or an assault, information that a student may be suicidal, or that suspicious individuals are on school property. The "Youth Education & Safety in Schools" (Y.E.S.S.) program has deputies teaching life-skill topics to kids in middle school. This allows deputies and kids to interact in a positive and proactive manner during a critical time when kids are likely to be confronted with difficult issues like; drug and alcohol use, bullying, gangs, peer pressure, internet and cell-phone safety ,and the emerging problem of teen suicide.
The public as well as the school kids will see these signs on buses spread through the whole county. "It is our hope that by seeing these signs, parents will ask their kids about them, in hopes of starting a good topic of conversation between them. We also want the public to know that we take the safety and education of our school children seriously and these programs help promote good decision making tools", stated Sheriff Weaver.
"This is a great partnership and a wonderful use of our bus advertising program," says Sean McGraw, executive director of the Douglas County Educational Foundation. He adds, "Engaging the community in this manner to share important information is a benefit to all of us."
It is also appropriate to note that the funding of these signs comes from drug-seizure funds and not the Sheriff's Office budget.