Yvonne Bailey: Faith and the right stuff
May 1, 2018
/
/
Comments Off

on Yvonne Bailey: Faith and the right stuff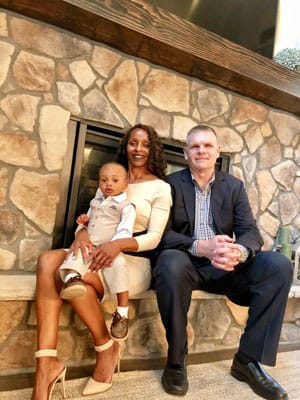 Yvonne Bailey has found peace and happiness with her husband, Christopher, and their two-year-old son, Chase – pictured here at their home in Castle Pines Village.


By Joe Gschwendtner; photos courtesy of the Bailey family
Castle Pines Village has an abundance of super-moms. More than a few have put high voltage lives on hold for motherhood. But how many genuinely started at ground zero? Meet Yvonne Bailey. Are there other factors unique to her situation? You be the judge. Perhaps two-year-old Chase and his innate gifts. Or Yvonne herself, because her son came along later in life? Let's backtrack to Nettleton, near Tupelo, Mississippi for all the details…
Yvonne Wilson was the third of eight children born in a rural backwater. Zero wealth. It was family, wisdom and guidance of parents and grandparents and an unshakable faith in God that lighted her runway. Yvonne's high school grades were excellent; she also starred in track and basketball. Going to college was the plan, but tuition was her challenge alone. Scrupulous saving and part-time work in high school and college allowed her to enroll in Lane College in Jackson, Tennessee. Her business administration degree would later prove priceless.
Success came early with Yvonne's position in Memphis radio. Her effervescence allowed rapid advancement as an advertising account executive, but imagination set her apart. Tackling the untapped professional market, she convinced clients that with creative ideas, ads could bring a serious return. Her best, the daily "Medical Minute" invigorated a sleepy medical practice and elevated its owner to a star in the process.
Whether luck or Yvonne's public success, the local fire chief approached her seeking marketing advice and an investment proposition. On the side, he promoted small market entertainers and sought additional investors. He offered Yvonne a 50 percent annual return and she took the chance. Two years later she became his partner. At age 25, she acquired her own home of 4,600 square feet and both a Porsche and Mercedes.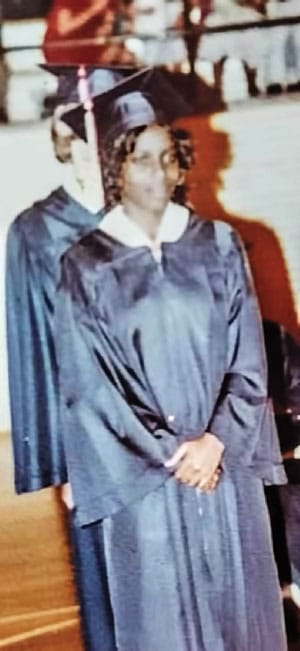 Due to a devastating house fire, most of Yvonne's childhood memories and photos were destroyed. She is pictured above at her high school graduation.
Being successful and also highly discerning about men was problematic. Logically, she might never find her soul mate. Her story would have ended that way but for a friend who arranged a meeting with her co-worker and runner. A jogger herself, Yvonne naturally avoided prime turf in parks and wooded areas, as they posed security threats. Chris it was said, could show her these places if they ran together. At their first meeting, the bells and the banjos rang. Fifteen days later, Chris asked for Yvonne's hand in marriage. Yvonne is convinced that when she said "Yes" it was God who moved her lips.
On to motherhood and Chase. Despite a story-book life, Yvonne has put her business aside (her brother manages it) to raise her son. Yvonne acutely recognizes the critical values of faith, family examples and coaching in her upbringing; Chase will have nothing less. Chris' senior executive position with Charter Communications allows this.
Now two, Chase has a vocabulary of 75 words. Given mom's off-the-chart energy levels, why would he not already be in the passing lane? For more details, track Yvonne down at the Village Fitness Center in Roger's Roosters' 4 a.m. Peloton class. By 6 a.m., she'll be home again when Chase wakens.