A 20-year courtship leads to happiness off Happy Canyon Road
December 1, 2018
/
/
Comments Off

on A 20-year courtship leads to happiness off Happy Canyon Road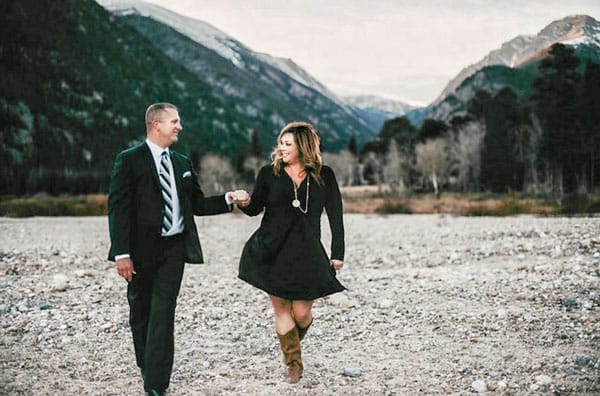 By Nancy Koontz; photos courtesy of Carrie Brown
The Village at Castle Pines Starbuck residents Shane and Carrie Burton met 20 years ago at a tire store in San Marcos, Texas while they were going to college, and sparks flew. Two decades later, they have finally "settled down" and tied the knot.
It started when Shane said hello to Carrie, and after a few minutes of small talk, he left smitten, only to circle the block three more times…each time waving to Carrie who was sitting in the lobby. After the final wave goodbye, Carrie was told there was a call for her at the tire store. Carrie answered the phone and was pleasantly surprised to hear Shane's voice asking if he could take her to lunch.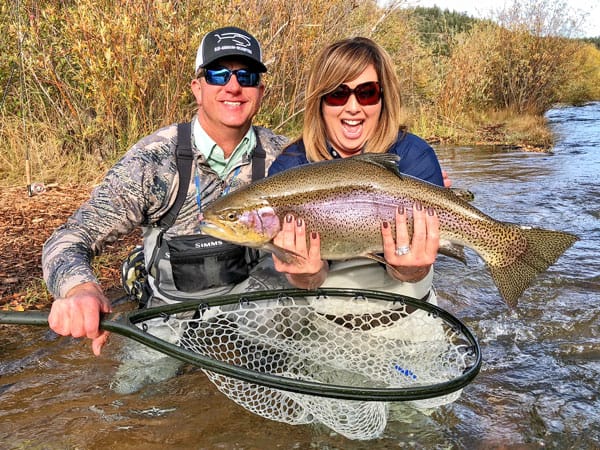 The Couple that plays together, stays together! Shane Burton holds the net while his bride Carrie celebrates the rainbow trout the couple caught while fly fishing on the South Platte River.
Two decades later, they say they are still madly in love and enjoy spending quality time together, talking and laughing as their first priority. Shane loves Carrie's positive attitude and her beautiful smile, and Carrie loves Shane's generosity and his "larger than life" vibrant personality. Shane and Carrie finally made it official and got married at the Andaz Maui Wailea Resort on August 9 of this year, 20 years after they met.
When Carrie and Shane originally moved to Denver for Carrie's leadership role with Dell Technologies, they were in corporate housing in the Cherry Creek area. Carrie envisioned a cosmopolitan lifestyle close to downtown. Being the native Texan, Shane wanted more space. Their compromise was found when they happened to turn off on Happy Canyon Road and saw the beautiful pines and wildlife. Shane and Carrie knew instantly they wanted to live in The Village at Castle Pines. The couple relocated to The Village nearly three years ago as their main residency from Austin, and they said, "We feel extremely fortunate for our wonderful neighbors who treat us like family and really make us feel welcome."
Employed by Dell for almost 16 years and considered one of their top technology sales experts, Carrie is in a good place to offer leadership and mentorship to other women interested in advancing their technology sales careers.
Shane loves hunting and fishing and being out in the wilderness where there is zero technology (meaning shutting off Carrie's cell phone), and the only lights you have are the stars above. Shane has gone hunting and fishing with his grandfather since he was a small boy in Texas, spending almost every weekend either in the woods or on the water. Shane commented, "It is where I feel at peace." Shane was injured while working as an outdoor lineman in Texas, and he is now semi-retired.
As a couple, Shane and Carrie enjoy vacationing anywhere with a beach. Hawaii is a favorite spot with future plans to visit Costa Rica, Africa, Alaska, Austria, and back to Paris where Carrie's mother was born, and where Carrie spent time as a small child. In addition, they also hope to learn how to play golf as a new hobby together.
In Colorado, the couple enjoy going to Vail for romantic dinners and they say nothing beats the drive up there in the fall with the beautiful colors. They also enjoy going to Beaver Creek during the winter to take part in an adventurous snowcat sleigh ride.
The Burtons like going back to Texas for fishing, barbecue, authentic Tex-Mex, and spending time on Lake Travis.
Carrie and Shane believe in living life to the absolute fullest. Ten years from now, the Burtons see themselves spending weekends on their ranch in south Texas, away from their busy lives. When asked what one word describes their life together, they both concurred it would be "blessed."