A community at its best – Surrey Ridge
March 1, 2010
/
/
Comments Off

on A community at its best – Surrey Ridge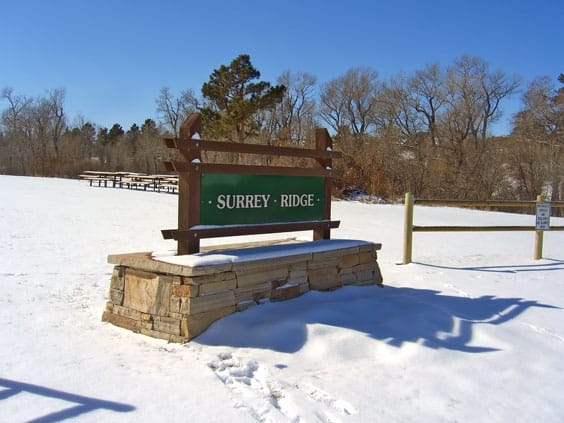 By Patte Smith
When first driving through the community of Surrey Ridge, it's surprising to see the residents, whether in a car or on foot, waving at everyone. This is common in the 120-plus-home equestrian neighborhood that was started in the late '60s. Residents love the area for the open space, the equestrian property, the quiet and rural feel, but most of all for the neighbors.
This tight-knit community answers the call when it comes to their neighbors. Whether donating money or meals when someone encounters a hardship, taking a neighbor to the doctor, picking up the paper or mail, or just lending a hand, Surrey Ridge residents can count on each other. And rest assured when a snowstorm hits, the men jump on their plows or tractors to help everyone get plowed out.
Fun activities are enjoyed by many: ladies bunco, bridge, book club, hay-rack rides for the kids at Halloween, an annual barn party, a Christmas party with Santa, picnics in the local park, and a ladies luncheon group. In winter, kids grab their sleds and head to the closest hill, laughing while flying down the slopes. The rest of the year, horseback riders can be seen traversing the many horse paths that wind through Surrey Ridge, or training their horses in the community riding arena.
Abundant wildlife is another reason people choose to live in Surrey Ridge. Migrating birds, especially hummingbirds, deer and elk, porcupines, pesky raccoons, wild turkeys, skunks, fox, coyotes, and bunnies make Surrey Ridge their home. The community peacefully coexists with the beauty of nature.
Surrey Ridge HOA meetings are open to all so each resident can have input on issues and improvements. Covenants are in place to ensure the neighborhood continues to improve while keeping the rural feel. An active women's equestrian group oversees horse trail issues. Each home is unique and the population is diverse with families, singles and seniors. Residents truly enjoy this rural-style of living.
Summed up by a long-time resident, "Surrey Ridge is caring neighbors, nature, horses, and a beautiful, peaceful place to live."