Failed negotiations for North Meadows extension
March 1, 2010
/
/
Comments Off

on Failed negotiations for North Meadows extension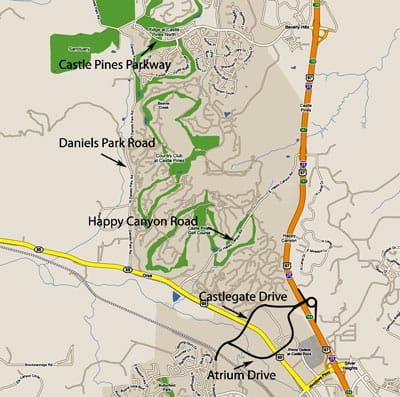 by Elizabeth Wood West
In spite of several attempts made over the past year, the Town of Castle Rock and Union Pacific Railroad have been unable to come to agreement on the possibility of the railroad relocating approximately one mile of its existing tracks. The relocation of the railroad tracks would have allowed construction of an at-grade intersection on U.S. Highway 85 for the North Meadows extension to U.S. 85 and I-25 project. Town council members voted unanimously to discontinue any further negotiations with Union Pacific Railroad.

Union Pacific's concerns
Union Pacific's operations staff cited specific concerns about the relocation: The length of curves in the relocated portion of the track could result in a greater potential for overturning and increased track maintenance costs. The relocation would also result in the tracks being in closer proximity to Plum Creek.
Union Pacific has experienced nearly annual track flooding incidents and bank erosion in this area, which has impacted the tracks and caused increased maintenance for the railroad. If an overturning was to occur as a result of the curvature, the risk of spills into Plum Creek may increase, resulting in greater environmental effects and clean-up costs. After further discussion, Union Pacific concluded that the increased operational risks outweighed any possible compensation or indemnification on the town's part.

Public hearings for Castlegate and Atrium
The Environmental Assessment (EA) for the town's two remaining North Meadows extension project alternatives (Alternative 6-Castlegate refined and Alternative 7-Atrium refined) will be available to the public on March 12. There will be a public hearing regarding the EA on March 29 (location and time to be determined). The town council will meet on March 30 to take public comment and make its recommendation for the project
For information about the EA, public hearing, or if you have questions, please visit www.crgov.com/nme or contact Assistant Public Works Director Maria D'Andrea at Contact by e-mail .