A lesson in kindness through honor
April 1, 2014
/
/
Comments Off

on A lesson in kindness through honor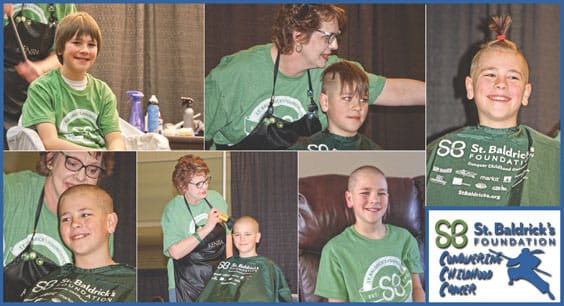 Rocky Heights Middle School student Zach Merriman, whose family lives in Surrey Ridge, gladly had his head shaved in honor of his late "ninja" friend Justin Miller. Merriman smiled as he saw the transformation and his hair disappear. Always having a good attitude, Merriman acknowledges that this was a great experience.
By Patte Smith; photos courtesy of the Merriman Family
Through tragedy often comes inspiration and courage. Such was the case with 11-year-old Rocky Heights Middle School student Zach Merriman, when he shaved his head to honor his late friend, 10-year-old Justin Miller, who passed away in January from neuroblastoma cancer.
Following Miller's passing, Merriman was overcome with sorrow but rallied in the months that followed in order to honor Justin. On March 13, Merriman shaved his head at the Douglas County St. Baldrick's fundraiser, an organization Justin was involved in that raises money for childhood cancer research. Merriman raised more than $1,000 participating in the event and plans to get his head shaved next year too.
"It felt right to do this for Justin," states Merriman. "He was a 2012 St. Baldrick's Ambassador. His team was the Ninjas Fighting to Beat Cancer." A smile came over Merriman's face as he remembered his friend. "He was so into ninjas. He didn't think about the cancer – it was life as usual with him. He played with his Legos and ninjas and always thought he could fight the cancer. He was positive and strong telling people not to worry about him."
"Right before my dad told me the news about Justin's death, he had reminded me to be kind to my sister. I'll never forget that. Jason's death and being kind will always be related to me. You never know what will happen so it is important to be kind and have strength like Justin – it is a lesson I will carry with me all my life. "
Merriman's mom was very impressed with the fundraiser that was held at the Douglas County Events Center. "The St. Baldrick's volunteers were great. My two little girls went along with us and had a fun time. There were activities, balloon animals, and food for the kids and adults. I am so proud of Zach and was overwhelmed to see so many people getting their heads shaved – young and old. Zach's sister, Sidney, thought it was cool that her brother shaved his head."
The St. Baldrick's Foundation is a volunteer-driven charity committed to funding the most promising research to find cures for childhood cancers. Worldwide, 175,000 children are diagnosed with cancer each year. In the U.S., more children die of childhood cancer than any other disease and yet, all types of childhood cancers combined receive only four percent of the U.S. federal funding for cancer research.
The St. Baldrick's foundation strives to direct every possible dollar to carefully selected childhood cancer research grants. For more information about the St. Baldrick's Foundation, visit www.stbaldricks.org.