July 1, 2018
/
/
Comments Off

on A place to call home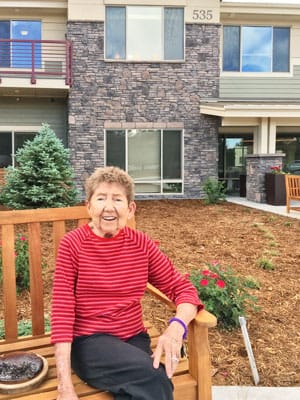 Rea Williamson enjoying a gentle breeze and the blooming flowers at her new home at Legacy Village of Castle Pines.
Article and photo by Daniel Williams
Although Rea Williamson grew up in the Chicago area, Colorado has always held a special place in her heart. After college, she traveled west for a teaching job, and it was in the Denver area that she would fall in love, get married and welcome her two daughters into the world. The Williamsons called Colorado home for a decade in the 60s and 70s, but work would eventually take them all around the country, the family packing up for a new location, a new adventure, every four years.
"We enjoyed moving, and we always did a lot of research on housing and schools, and the right schools for the girls was always the most important thing," said the retired English teacher.
In 2015, Williamson's daughter, Kim Sutula, moved to Castle Pines with her family. The Sutulas had been living in England for nearly four years, but with the move back to the states, and to the place where they had roots, the family wanted Williamson nearby.
Williamson lived with the Sutulas in their home for a while, but she wanted her independence and tried different senior communities in Castle Rock. Although she made great friendships at those places, they never felt like home, and when Legacy Village of Castle Pines began construction at the corner of Monarch Boulevard and Castle Pines Parkway last year, it seemed like a perfect fit.
"Having my mom living at Legacy Village gives our family peace of mind, knowing she is close and happy living in an independent senior community," said Sutula. "She is very social, and living in a community that offers many activities as well as friendships reinforces that we did the right thing moving her here from Texas."
Already home
When I drove up to Legacy Village of Castle Pines on a recent visit, I found Williamson sitting outside the facility on a park bench, enjoying a late afternoon breeze and the flowers that had recently bloomed.
"I love to come out here and enjoy the great view and the fresh air," Williamson said as if she had lived there for years. After a brief discussion about the recent fires and the need for rain, she said, "Well, why don't I give you a tour."
As we wandered the hallways, admiring artwork and the spacious design, Williamson knew everyone we bumped into and offered a smile and an introduction.
"She has been a highlight of our community," said Rachel Davenport, executive director of Legacy Village of Castle Pines. "She's already made new friends, and she's also reconnected with friends she had from other communities. She's also been an amazing advocate of Legacy Village. Rea talks with people when they're here on tours and tells them that this is the place to be. It's really kind of cool."
Williamson told me it was easy to talk up her new home because of the relationships. "We have a group of buddies here," she said. "They have a great happy hour here we can enjoy inside or in the courtyard. Also, in the dining room, we've pushed the tables together to form one big table, so we can all sit and talk and share our stories."