September 1, 2019
/
/
Comments Off

on A True Dedication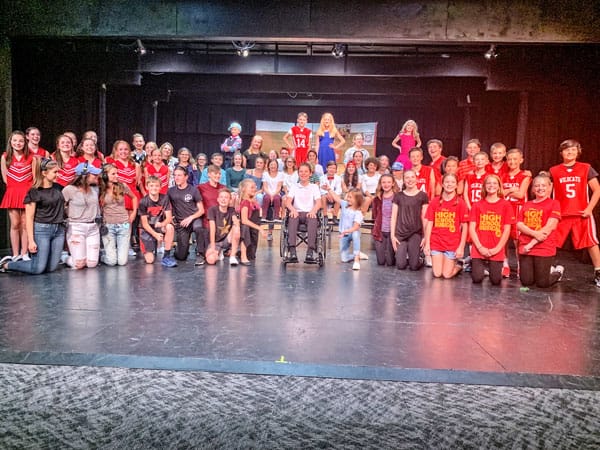 All smiles and shining bright Phillip Ullom takes the stage with his fellow cast and crew members for the final curtain call of American Academy's "High School Musical."

By Julie Matuszewski; photo courtesy of American Academy
With the new school year now upon us, it seemed fitting that the American Academy (AA) theater arts program concluded its summer productions series with "High School Musical."
The camp itself was made up of fifth through eighth graders from all three AA campuses. Some campers came with onstage experience, while other campers hit the stage for the very first time. The camp was designed to promote acceptance of all students and their interests, to encourage students to take risks, and to explore who they are and who they wish to become.
These cast members not only took risks while onstage, they also showed their audience and community that they are a family made of special friendships. These star performers dedicated their performance of "High School Musical" to fellow cast members and twin brothers Nathan and Phillip Ullom who suffered greatly in an accident earlier this summer.
The brothers shared a love for singing and theater. Both Nathan and Phillip began participating in stage programming in the fall of 2018, enrolling in the AA theatre arts certification program with the intention of exploring their growing passion for the stage. Since that time, they had appeared in AA productions of "The Secret Garden" as well as "Thoroughly Modern Millie."
The twins' mother, Julia Blackshear, saw a clear correlation between theatre arts and student literacy. Theatre arts facilitated an increase in Phillip's confidence, cooperation and collaboration with fellow classmates; enhanced problem solving skills; increased social awareness and sharpened memory skills. Additionally, it built trust with others while having fun.
Both Nathan and Phillip Ullom were slated to perform this summer with the AA cast in "High School Musical." Still recovering from the accident, Phillip was invited to join the stage with his fellow cast members for the final curtain call of the show.
Wearing a smile of pride, Phillip took the stage in honor of his fallen brother Nathan. Thankful for the dedication, Blackshear also shared how appreciative she was that Nathan had the opportunity to participate in AA theater arts.
The AA cast and crew are all truly leading stars as they have shown a community their compassion and commitment for one of their own family members whose love for the stage will forever shine bright.
If you are interested in joining AA in supporting Nathan's family, including his twin brother Phillip who is recovering from injuries sustained, visit https: //www.gofundme.com/f/nathan-ullom-fund.
In loving memory
Nathan Ullom
2006 – 2019