Carter Brand Takes First Place in USA Sprint Triathlon National Championship Race
September 1, 2019
/
/
Comments Off

on Carter Brand Takes First Place in USA Sprint Triathlon National Championship Race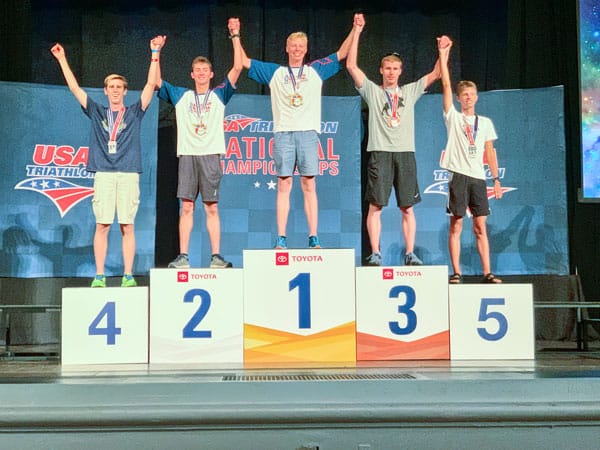 Brand proudly takes his place as the national champion on the race podium. Brand finished first in the mens 15-19 age group for the USA Sprint Triathlon.

By Carin R. Kirkegaard; photos courtesy of Mira Brand
Carter Brand, Rock Canyon High School senior and Castle Pines resident, finished at the top of the podium as national champion in the USA Sprint Triathlon event held in Cleveland, Ohio. Out of 1,700 competitors, Brand finished 21st overall and took the title in the 15-19 age group. With the win, Brand will represent Team USA in the sprint distance triathlon event at the 2020 world championships in Edmonton, Canada.
"This race was an awesome experience with years in the making. Triathlon is one of the most physically demanding sports out there, as it requires you to train in all three sports – swimming, biking and running. To compete at the highest level, you can't have a weakness. To me, this title was an eye-opening experience. It showed me what I can achieve with hard work and grit," stated Brand. "It is also opening up many opportunities for me in the future, such as worlds, that I can't wait to take on," he continued.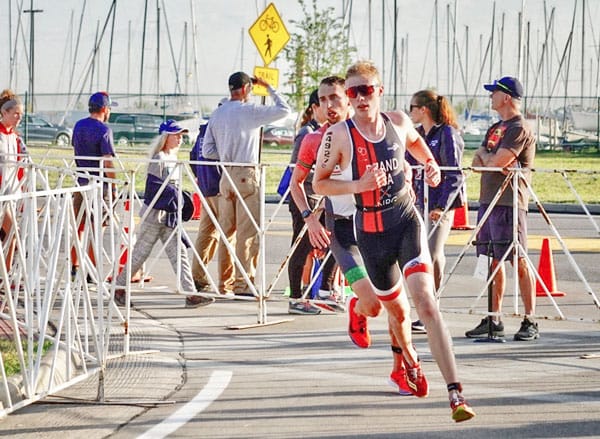 Carter Brand is pictured above running into the finish. Brand trains throughout the year with eNRG Performance Triathlon Club.

Despite the National Collegiate Athletic Association not sanctioning mens triathlon, Brand hopes to continue his athletic career in college. Under consideration is an elite development team called Project Podium that is based in Tempe, Arizona. The program offers scholarships to Arizona State University and allows athletes the opportunity to take classes while maintaining the daily high-performance training needed for the sport. The intent for athletes participating with Project Podium is to ultimately compete in the Olympics. Brand is also considering schools that offer strong competitive men's triathlon clubs, like those offered at Colorado State University and the University of Colorado.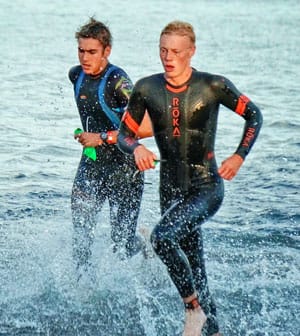 Brand was second overall coming out of his swim in Lake Erie. While it is important to be strong in all three sports, Brand is strongest in the swim.