September 1, 2019
/
/
Comments Off

on Be Prepared, Not Scared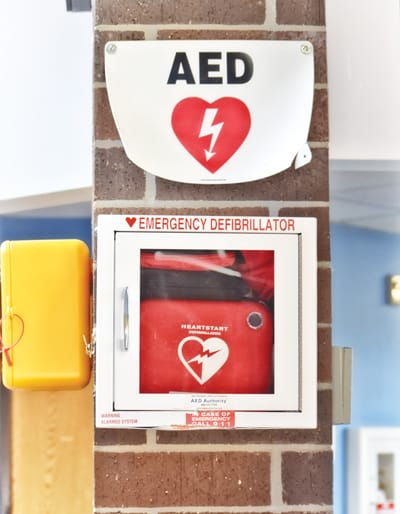 An AED is located right inside the main entrance at Buffalo Ridge Elementary.


Article and photo by Lynn Zahorik
National Preparedness Month is observed each September to promote family and community disaster and emergency planning now and throughout the year.
It is sponsored by the Federal Emergency Management Agency, and the 2019 theme recognized across the country is "Prepared, Not Scared."
Residents can take a step forward in preparedness by learning more about the automated external defibrillators (AED) housed in white glass boxes throughout the Castle Pines area. The lightweight, portable battery-operated devices treat sudden cardiac arrest, a condition in which the heart abruptly stops beating due to a disturbance in the internal electrical system that signals it to pulse. As a result, the flow of blood to the brain and other vital organs stops. With each minute that passes without treatment, the survival rate for a victim reduces by seven to 10 percent.
Sudden cardiac arrest is among the leading causes of death in the United States. More than 350,000 people will suffer a cardiac arrest this year. Currently, the only way to restore a regular heart rhythm during cardiac arrest is to use an AED.
AEDs work by monitoring the person's heart rhythms through electrodes placed on the chest. The sticky pads collect and deliver this information to a computer in the AED, which analyzes it for one of two types of abnormal rhythms that may be electrically shocked back to normal.
AEDs are located in all of the Douglas County schools and most libraries (including Castle Pines, Castle Rock, Lone Tree and Parker). They are also in public and private locations throughout the 80108 ZIP code, including The Country Club at Castle Pines and several security patrol cars in The Village, as well as Legacy Village in the City of Castle Pines and neighboring Sanctuary. As our community continues to expand, the need for additional AEDs will grow too.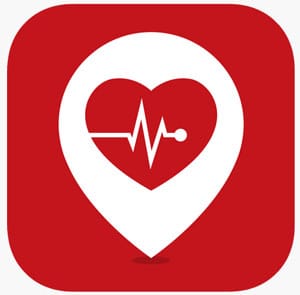 AEDs can save lives. The South Metro Safety Foundation offers courses in CPR-AED training each month. It is not difficult to learn how to properly utilize an AED. They come with step-by-step instructions to assist you. In the case of a cardiac emergency, you should always call 911 first, and then determine where the closest AED is located. Knowing where to find an AED can be a challenge. The Pulsepoint AED app is a valuable tool which assists citizens in locating their nearby AED. The free app empowers community members to record sited AEDs to assist in building a comprehensive registry of available AEDs. When you find one, you enter a description and snap a photo. The info is vetted and centrally available so nearby citizens can locate one when a cardiac emergency occurs.
Be prepared, not scared – learn more about the life saving AED and the Pulsepoint AED app.
For more information on CPR-AED courses visit www.southmetrofoundation.org/131/CPR-AED-First-Aid.
For more information on Pulsepoint AED app visit www.pulsepoint.org/pulsepoint-aed/.