A young, mounting success
November 1, 2010
/
/
Comments Off

on A young, mounting success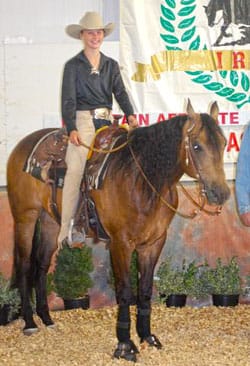 Clark on her horse, "Duncans Dun It" at the Mountain Affiliate Finals, Utah, in September of this year.
Article by Kathy Dunker with photos by Judson Crossland and courtesy of Stuart Clark
Emily Clark, a 13-year-old seventh grader at Denver Christian in Highlands Ranch, has had a very impressive year as a young equestrian. A resident of Oak Hills in Surrey Ridge, her strong performances have led her to an invitation to the National Finals in Oklahoma City in 2011.
Clark was the Grand Champion in Western riding, English riding and Ranch riding as well as Master Showman at the Douglas County Fair this past August. Clark was also the Reserve Champion at the 2010 Colorado State Fair in Pueblo in Freestyle Reining. Reining is accomplished with a western saddle and equipment, in the style of a cowboy round up, whereby the rider is judged by specific movements on a point system. The sliding stop to catch a cow is an example of one such movement.
Clark says this about riding, "Competing in the Freestyle Reining taught me that I can't do everything perfectly, and not everything is going to go as planned, which helped me to overcome some things that used to make me nervous. I've met so many people this year and got to know more about my old friends. It is amazing to see how everyone improves so much each year. We have a lot of great riders in Colorado!"
Clark is active in 4H at the Douglas County Fairgrounds with English riding as well as Western riding and roping, which is similar to working a ranch horse. The 4H events culminate with the Douglas County Fair itself during the last week of July and first week of August. In 4H, Clark was named Grand Champion English, which uses an English saddle and different dress, Grand Champion Western for 8 to 13 year-olds, and she was also awarded Ranch Horse Master of Showmanship.
Clark performed in the Reserve Championship at the Colorado State Fair during the first week of September which involved a choreographed performance, complete with music and a costume. Clark also performed in the National Western Stock Show, freestyle event as Annie on January 9.
Riding is becoming somewhat of a tradition for the Clark family. Clark's mom, Alice, rode as a child and began teaching Emily to ride at the young age of four. Her dad, Stuart, rides as well as does Clark's younger sister, Abigail. Abigail, nine years old, is also a participant in 4H like her older sister. The Clark family owns a total of five horses which reside with them on their five acre lot in Oak Hills. Alice Clark commented, "As a family, Stuart and I enjoy riding horses with our girls and watching them grow through 4-H and the National Reining Horse Association. I was raised in 4-H as well, and feel caring for livestock is a fun and responsible way for kids to grow up. They are never bored!"
Clark, who is now quite an accomplished rider, began working with trainer, Guy Vernon, from Kiowa about three years ago. Clark's horse, "Duncans Dun It" is the son of renowned horse, "Hollywoods Dun It", and is one of the last remaining offspring from that stallion. Clark rides daily, weather permitting, and also rides indoors in Kiowa. She continues to take private lessons with Vernon once or twice per week.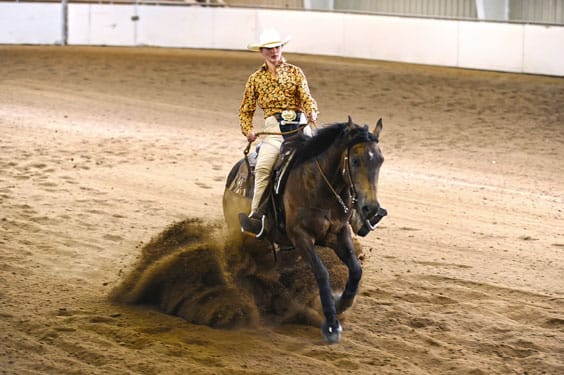 Clark showing one of her sliding stop moves last July at the Summer Sun competition at Latigo Trails Equestrian Center in Elbert, home of the Eastern Plains Reining Horse Association (EPRHA)
.