'Tis the season for game hunting
November 1, 2010
/
/
Comments Off

on 'Tis the season for game hunting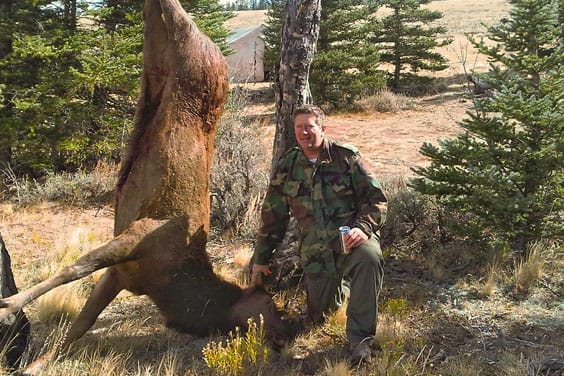 The final prize, CPN II resident, Mike Dunker, bags a cow elk on October 24.
Article by Kathy Dunker with photos by Mike Dunker


October and November 'tis the season in Colorado; big game hunting season, that is. Many Castle Pines residents are heading to the mountains this fall as big game season switched into high gear.
Colorado offers numerous hunting seasons including archery, muzzle loading gun season, and rifle season. The more popular rifle season offers four options known as first, second, third and fourth respectively. First season for 2010 was October 16 – 20, second season was October 23 – 31, third season will run from November 6 – 14 and fourth season will be from November 17 – 21. The later seasons tend to be colder, but also offer more hunting opportunities as animals are forced to move down the mountains.
While hunters can hunt on private land with permission of the land owner and a private-land-only license, many hunters look to the public land options which require either an over the counter or a limited draw license. Many hunting areas are discovered through word of mouth or simply driving around to see what a particular zone is like. A hunter can then go to the Colorado Department of Wildlife (DOW) interactive map at
www.wildlife.state.co.us/LandWater/StateWildlifeAreas to discover what types of hunting are allowed in each of the state's many zones.
Hunters must apply for each animal license separately for limited draw since only a certain number are given out. Limited draw applications must be turned in by early April for the following autumn season. Colorado wildlife officers monitor and manage wildlife for Coloradans and visitors to Colorado. Wildlife management objectives include determining the numbers and types of wildlife taken each year.
According to the DOW website, the big game hunting forecast for this fall is, "Lots of animals plus summer moisture and good forage plus lots of hunting opportunities add up to good big game seasons this autumn." When asked what kind of shape deer and elk are in, Stephanie Duckett, DOW terrestrial biologist in Grand Junction, had this to say: "Very good! This summer has had good moisture so the forage is plentiful and of good quality, and animals should be in excellent condition."
While older hunters are grandfathered in, hunters born on or after January 1, 1949, must hold a valid hunter education card before applying for any hunting license. A hunter education card and the appropriate license(s) must be in the hunter's possession at all times while hunting. DOW hunter education courses, led by trained instructors, are offered throughout the year and throughout the state to attain these cards.
Hunting licenses can be purchased for many different animals including moose, mountain lion, black bear, antelope, and small game including birds. The most popular hunting targets in Colorado are elk and deer. Cow and bull licenses or tags for elk must be applied for and purchased separately as well as doe and buck deer. Whenever a hunter is turned down for a tag, he gets a preference point for the following season in that category. The smaller the number of tags available for a particular animal means the more preference points that are required.
Hunters must be conscious of the size of the antlers on the males. Wildlife officers monitor not only what animal the hunters shoot, but also the sex of the animal and the size of the antlers if it is a bull.
Big game hunting is usually done in hunting groups of several people due to the sheer size of the animals. A mule deer can vary in weight from 125 to 400 lbs., and an elk can range anywhere from 500 to 1000 lbs. which is a lot of weight to get back to camp! For more information about hunting options and regulations, visit the Colorado DOW website at www.wildlife.state.co.us.
While CPN II hunter, Mike Dunker, will tell you, "It's a lot of work!" What makes is all worthwhile? Dunker, says, "It's a great time with the guys! Well, that, and a freezer full of meat!"