Access to Coyote Ridge Park Made Easier – Trail Connector Project Completed
December 1, 2008
/
/
Comments Off

on Access to Coyote Ridge Park Made Easier – Trail Connector Project Completed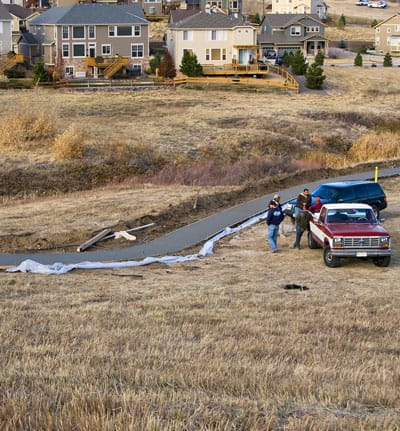 Workers complete the new trail to Coyote Ridge Park in November (photo by Tim Gamble)
by Terri Wiebold
Residents in the northern neighborhoods of Castle Pines North (CPN) are celebrating safer passage to Coyote Ridge Park, thanks to plans for a new sidewalk extending from the underpass at Monarch Boulevard between Esperanza Drive and Winterberry to Serena Drive.
Three years ago, North Lynx resident Jennifer Havercroft approached the CPN Metro District Board of Directors requesting the sidewalk be extended. According to Havercroft (who's home backs to the open space being used at the time as a make-shift path), safety was her biggest concern.
"The grass in the open space grows pretty tall and there are coyotes and rattlesnakes back there," said Havercroft. "I have seen parents pushing strollers through it, kids walking through it carrying skateboards, kids riding bikes through it; you name it!" Havercroft continued by saying that seeing kids run across busy Monarch Boulevard to get to the park was frightening to watch, and it was happening on a daily basis.
At the request of the Metro District, Havercroft and neighbors kept a log of the number of residents traveling through the open space. During a three-month period, they recorded more than 200 occurances.
According to Metro District Parks, Trails and Open Space Manager Charlie Fagan, the project cost an estimated $70,000 and involved 4,500 square feet of five-foot wide concrete trail; a 850-foot retaining wall, and approximately 22,500 square feet of native grass re-seeding.
The CPN Metro District is responsible for maintaining the district-owned parks, trails and open spaces within the community. Funding for projects like the new sidewalk come out of the Metro District's general fund.
Residents have made good use of the new path traveling to and from the park, according to residents who live in the area. In fact, the day the Metro District started the dirt path, Havercroft and her neighbors witnessed a young boy with his father using the path, and Havercroft e-mailed the Metro District Board of Directors to express her gratitude. "I could not have been more excited," she stated.
Havercroft credits the current Metro District Board of Directors for bringing this three-year endeavor to fruition. "I think the new board realized that this was a good use of district funds and that it would help a lot of residents get to the park more safely."