City Works to Extend Snow Removal Service
December 1, 2008
/
/
Comments Off

on City Works to Extend Snow Removal Service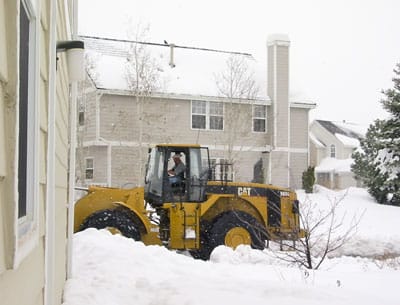 by Lane Roberts
Now that Castle Pines North (CPN) is a new city, many residents have expressed concerns about snow removal for 2009.
Snow removal services that were previously provided to unincorporated CPN by Douglas County will become the responsiblity of new city beginning February 12, 2009. Douglas County was required to continue to provide services one year from the date CPN officially became a new city – which was February 12, 2008.
According to CPN Mayor Maureen Shul, the City is in the process of negotiating with Douglas County for an additional 90 days of snow removal service to ensure the needs of the entire 2008-2009 season are met.
"Since this date falls during the midst of winter, we have requested Douglas County Public Works to continue our snow removal services until the end of May, so we will not have problems that would be associated with changing snow removal services in the middle of the snow season," said Shul.
"Once the terms of the agreement have been established, we will present the IGA [intergovernmental agreement] to the City Council for approval," she continued.
As in previous years, the County will assign each street in CPN a priority for snow removal. For more information on the County's winter procedures and plow routes, call Public Works at 303-660-7480 or go to www.douglas.co.us/publicworks/operations/Snow_and_Ice_Removal.html.
The Castle Pines North Metro District is responsible for plowing sidewalks and trails along major streets and in parks in the community. For questions regarding snow removal on CPN's open spaces and trails, please contact the Metro District Parks & Open Space Manager, Charlie Fagan, at 303-688-8550 or e-mail Contact by email .
Neighborhood HOAs are responsible for snow removal on any private streets, sidewalks and trails along designated HOA common areas, as well as driveways and sidewalks of town homes and patio homes. Contact individual HOAs for specific snow removal guidelines.
For single-family homes, individual homeowners are responsible for removing snow and ice along sidewalks adjacent to homes.
Please make sure to remove vehicles from streets following a snow storm so that plows can do their job quickly and safely.
Residents with snow removal issues should contact the city at 303-705-0200.