Addison Wagner Finding Life after College Through Art and Sustainable Farming
September 1, 2019
/
/
Comments Off

on Addison Wagner Finding Life after College Through Art and Sustainable Farming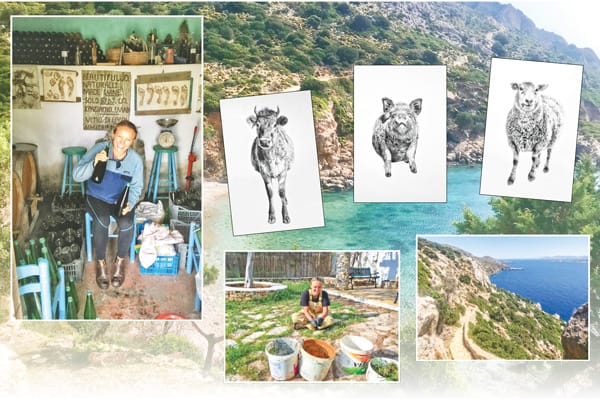 By Carin R. Kirkegaard; Photos courtesy of Addison Wagner
The transition from college to full-blown adulthood can be bumpy. Underemployment, moving back home or contemplating graduate school are real possibilities for many new graduates. There can be a societal pressure that with a diploma comes a 9-to-5 job, a mortgage and a definite life plan. Certainty of the next move isn't always a guarantee. Castle Pines resident Addison Wagner decided to take a gap year before transitioning to adult life.
Wagner graduated from Kenyon College in May 2018 with a Bachelor of Arts in art and a minor in environmental studies. The small liberal arts college is located in rural Knox County, Ohio just 45 miles outside Columbus and is home to a 500-acre nature preserve that promotes sustainability and green initiatives in every aspect of campus life.
In her four years spent at Kenyon, Wagner was able to explore both her love for artistic creation and her need for stewardship of the environment. Although at times she felt a conflict between the two fields, by the end of her collegiate career, Wagner said she was starting to reconcile these two parts of herself.
Wagner compared the attention to detail so often equated in the creation of art to that which is needed in farming. Wagner described her passion for sustainable farming as "a love for spending time outside, a preference for hands-on labor, and pleasure in witnessing the results of that labor." Wagner said this of her passion for art: "It requires careful observation and a deliberate and thoughtful investment of time and energy."
Still searching for the right way to make her mark in the world, Wagner decided to take her talents and passion for farming and volunteer with World Wide Opportunities on Organic Farms (WWOOF). The organization partners volunteers with organic farmers, fostering a symbiotic relationship that provides cultural exposure and educational experience. The volunteer chooses a destination and a farm to work. The host provides room and board in exchange for help on the farm. With no money crossing hands, the relationship is based entirely on trust.
Wagner chose Greece as her destination, and from March through June, Wager went from the mountain town of Kastri to the tiny island of Lipsi to an artist residency in Paros. Wagner arrived during the spring and spent much of her time preparing the fields for planting. She cleared fallen branches, monitored controlled burns, pruned trees, made mulch, bottled wine, marinated olives and perhaps her most interesting job, delivered figs and wine to nuns at a local convent.
Essentially, "We weeded our way through Greece," Wagner said.
"I think the trip was a good lesson in trust. Both parties enter the arrangement in a somewhat vulnerable place, trusting that without any money or oversight, the exchange will be fair and respectful. From my perspective, it was that and so much more. The trip helped me contextualize myself within the larger global picture and feel more optimistic about possibilities to work collaboratively with people from different backgrounds," said Wagner.
Stateside again, Wagner has the opportunity to explore creating art after college. In October, she will be an artist in residence at the Art Farm located in Marquette, Nebraska.