African Tortoise on the Loose in Castle Pines Finally Found
December 1, 2012
/
/
Comments Off

on African Tortoise on the Loose in Castle Pines Finally Found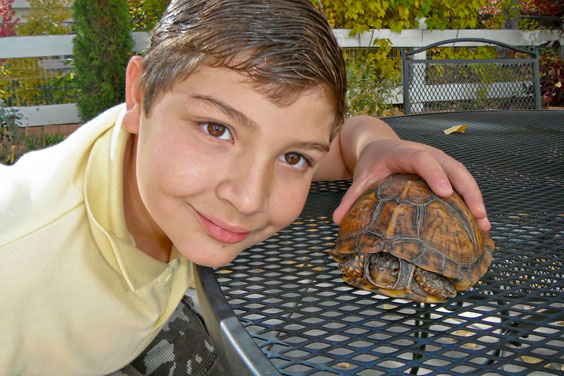 Landon and his tortoise, Henry, happily back together at home
Article and photos by Liz Jurkowski
Last spring, eight-year old Landon Holderness begged for a pet tortoise. In addition to the family's dog, Bruiser, he thought it would be fun to have a cute, little, shelled, indoor pet. His parents, Michelle and Fred finally gave in and brought home an Eastern Hinged-back tortoise named Henry.
Always climbing up the side of its cage trying to get out and explore, Michelle felt sorry for the tortoise. On one hot day in July, she suggested Landon take Henry outside to walk around on the grass in the backyard. Then the tortoise disappeared.
Initially sad, Landon worried about his little pet. But reassured by his parents that the warm summer heat was what the animal thrives in, Landon felt better, always thinking it would be okay "out there."
"He was worried at first," said Fred, "but stopped talking about Henry until we had those first hard frosts in early October." Landon suddenly began to ask about his lost pet again, hoping it was okay.
In the middle of October, Michelle received a phone call at work. "Do you have a pet turtle?" It turns out Landon's neighbor found the small animal in the corner of their yard while raking leaves. Fred rushed to their neighbor's house to retrieve the tortoise and take it home before Landon came home from school that day.
What a great surprise it was when he returned home and saw Henry safely back in his cage. "I was so surprised and was very, very, very, very, very happy!" said Landon. Be careful when raking those leaves; you may find somebody's lost pet!