AA expands; Parker and pre-kindergarten
December 1, 2012
/
/
Comments Off

on AA expands; Parker and pre-kindergarten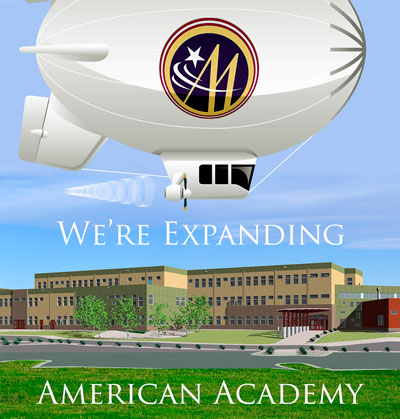 Information courtesy of American Academy
Thanks to a partnership between Douglas County School District (DCSD) and American Academy (AA), work will soon begin on a second AA campus in Parker. The Douglas County charter school will be opening its second campus near Mainstreet and Motsenbocker Road in the Fall of 2013. It will be a replica of the Castle Pines school in all ways except one: the addition of a pre-kindergarten program.
"This partnership is mutually beneficial for American Academy and the district. We are excited to be able to accommodate more kids from our waitlist and using district land makes the project financially feasible. We are also looking forward to joining the Parker community" said AA's Head of School Erin Kane.
The Douglas County Board of Education approved AA's request to open a second campus, as well as its request to use a piece of land owned by the district. In return, AA has agreed to weight admission for Parker area students, helping to ease capacity and class sizes at other Douglas County schools in the growing area.
DCSD Chief Operations Officer Bill Moffitt said it is truly a win-win for the District and AA. "When a charter school is approved they are not obligated to build where we want them to build. I see this as a great partnership, where a charter school has agreed to build in a location and weight their admission according to our near-term student growth needs," Moffitt said. Currently, AA has approximately 2,800 students on its wait list, many of whom reside in Parker.
Starting in late September, 2013, the school will be built in phases and will be prepared to serve more than 600 kindergarten through sixth grade students, as well as about 90 pre-k students. Eventually the school will include about 950 pre-k to eighth grade students.
With the new addition of pre-k option, AA board member Denese Gardner commented, "This is an exciting new move for us in a lot of ways. It's always been the board's goal to develop a successful public school that is accessible to as many students as possible."
The pre-k program itself is being developed in consultation with expert Sarah Byrne, a name that might be very familiar to parents in the Castle Pines area. For 13 years, Byrne ran a very academic and successful preschool program out of her Castle Pines home.
AA has been offering informational meetings for prospective parents interested in learning more about the school's programs. Remaining meetings are December 3 and December 4 at the Castle Pines campus. Interested parents may RSVP as directed on the website. The school plans to continue offering the informational meetings throughout the spring.
The pre-k program will be tuition-based and the rates and schedule options will be competitive with similar programs offered in the area and a payment plan will be available. AA will be holding an enrollment lottery for pre-k and k-6 programs in Parker on December 5. Parents are invited to enroll students in the lottery for either of AA's campuses by visiting the school online at www.americanacademyk8.org.