All State Orchestra honors go to …
May 1, 2016
/
/
Comments Off

on All State Orchestra honors go to …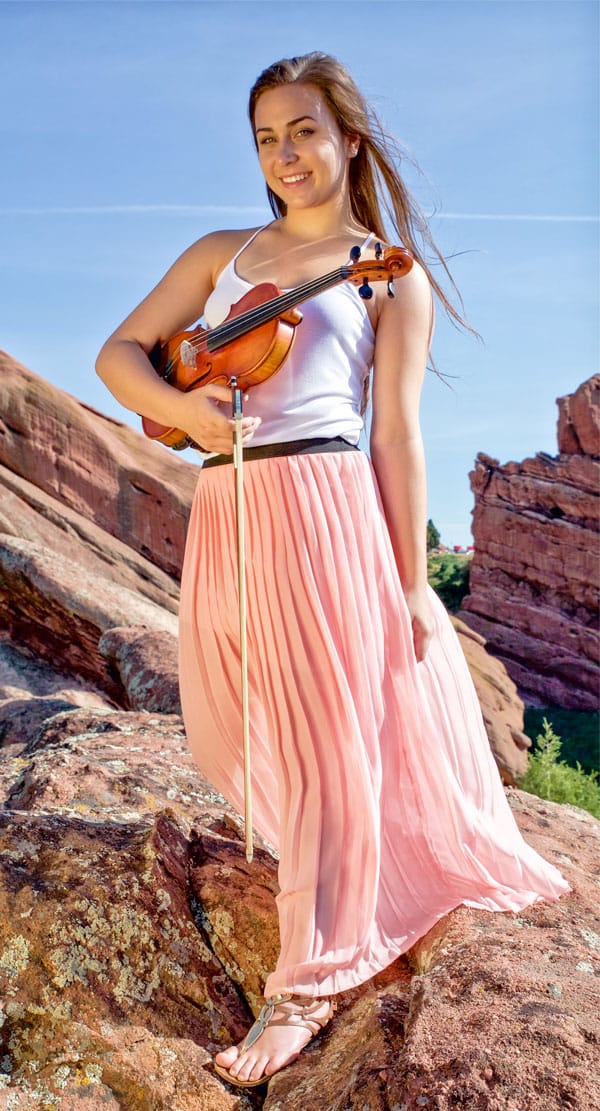 By Kathy Fallert; photo courtesy of the Martinez Family
Tuesday, April 19 at the Board of Education meeting held at the Douglas County School District Administration Building in Castle Rock, more than a dozen students were recognized for being elected to the All State Orchestra, Choir and Band. This is the highest level of honors for a performing high school student. Among those honored was 15-year-old Carmen Martinez, a sophomore at Rock Canyon High School (RCHS) and Castle Pines resident from the Estates at Buffalo Ridge.
Martinez plays the violin, which she learned at the age of nine. As a student at Timber Trail Elementary, an assembly called for new music students and Martinez was interested in giving it a try. Martinez had always been artistically inclined and has danced competitively since the age of five. Martinez is also part of the RCHS junior varsity poms team.
Father Orlando Martinez reflected, "My wife Sara and I are not musicians and do not come from a musical background; Carmen did this all on her own and it has been her choice and passion. The support of the teachers and the local school system as well as her private teacher, Nancy Allwein, has helped her advance musically and thus personally. Of course we are proud parents, but watching Carmen evolve personally and scholastically because of the discipline she has learned through music is remarkable!"
Martinez was made concertmaster of the RCHS Chamber Orchestra her freshman year. In additional to Martinez's participation in violin and poms, she has also excelled academically with a 3.85 GPA.
RCHS Chamber Orchestra teacher Benjamin Dale commented, "Colorado All State Orchestra is an elite group reserved for the most accomplished high school students in the state. Carmen is a remarkably talented student, but what makes her truly exceptional is her dedication to practicing and improving, her commitment to excellence, her mature and responsible approach to learning, and her humble yet assertive leadership. The Rock Canyon Chamber Orchestra is fortunate to have Carmen as our concertmaster again this year, and we are thankful for her tremendous contribution to the program."
Orlando Martinez concluded, "We are very lucky to live in a school district that promotes and supports the arts at the K-12 levels. At Rock Canyon, our principal Andy Abner makes it a point to attend all of the concerts and was even at this Douglas County Board meeting to show his appreciation for those kids."