American Academy hits broadway!
January 1, 2010
/
/
Comments Off

on American Academy hits broadway!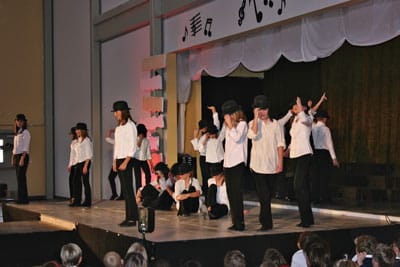 Middle School students performing the classic "A Chorus Line."

Article and photos by Kathy Dunker
American Academy students dazzled audiences in December with their delightful Broadway Revue: Let's Make a Scene! Performed in the school gym and led by kindergarten through fifth grade music teacher Mark Middlebrooks and middle school music teacher Reece Livingstone, it was a lively production that was put together primarily by the students.
Middlebrooks, who has been teaching music at American Academy for the last five years said, "Our goal in this production was to empower the students to create their own piece." While performers were given advice from the teachers as well as some parents, Middlebrooks went on to state, "for all practical purposes, the students put this one together themselves."
The students chose their own numbers, rehearsed on their own and chose their own costumes and staging. This performance was achieved without auditions. Any student who wanted to give it a try and was able to put something together to meet the deadlines was included in the show.
The Revue included a wide range of Broadway favorites including numbers from "Oklahoma", "The Sound of Music", "Mamma Mia", "Fame", "Wicked", and the students' favorite "High School Musical." Overall, there were roughly fifteen musicals represented in the show with the younger kids performing the first portion and the middle schoolers performing after the intermission.
"We are pretty proud of our program," said Middlebrooks, "but even more so of the talent and dedication of these students." American Academy will be presenting Willy Wonka, Jr. in the spring which will be by audition only.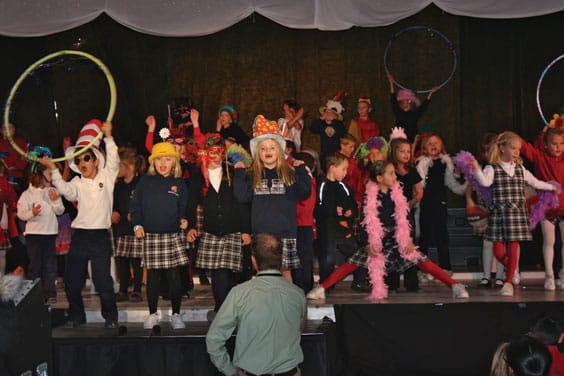 Kindergarten – second grade cast dancing to a Disney medley.